#210: Ginny In The Mirror by Del Shannon
Peak Month: March 1962
11 weeks on Vancouver's CFUN chart
Peak Position #1
Peak Position on Billboard Hot 100 ~ #117
YouTube: "Ginny In The Mirror"
Lyrics: "Ginny In The Mirror"
Charles Weedon Westover was born on December 30, 1934. He was known professionally as Del Shannon. Westover was born in Grand Rapids, Michigan. He learned ukulele and guitar and listened to country music. He was drafted into the Army in 1954, and while in Germany played guitar in a band called The Cool Flames. When his service ended, he returned to Battle Creek, Michigan. There he worked as a carpet salesman and as a truck driver in a furniture factory. He found part-time work as a rhythm guitarist in singer Doug DeMott's group called Moonlight Ramblers, working at the Hi-Lo Club. Ann Arbor deejay Ollie McLaughlin heard the band. In July 1960, Westover signed to become a recording artist and composer on the Bigtop label. Westover changed his name to Del Shannon. It was a combination of Shannon Kavanagh (a wannabe wrestler who patronized the Hi-Lo Club) with Del, derived from the Cadillac Coupe de Ville, which Westover's carpet store boss drove.
Apparently, Charles Westover asked a girl named Karen to go with him to the Senior Prom. She said yes, but two weeks later dumped him for another guy who was Westover's rival. Westover, who was 140 pounds and 5'6" was devastated and never got over it. Almost all fourteen of Del Shannon's singles released from "Runaway" (1961) to "Two Kinds of Teardrops" (1963) were about sadness, break-ups, and loneliness.
During his career Del Shannon had just three songs in the Top Ten of the Billboard Hot 100 and four more singles that reached the Top 30. However, in Vancouver Del Shannon charted three songs to #1, six more songs into the Top Ten and seven more songs into the Top 30. In Vancouver, any Del Shannon 45 RPM had a good chance at being a big seller. When "Runaway" appeared on the C-FUNTASTIC FIFTY in March, 1961, it topped the charts for five weeks in a row in April. Del's follow up, "Hats Off To Larry", was #1 for three weeks in late June/early July. His third single release was "So Long Baby", climbed to #5 in Vancouver, but stalled at #28 on the Billboard Hot 100.
In the winter of 1961, Del Shannon had a #4 hit in November-December on the Vancouver pop charts with "Hey Little Girl". The single peaked at #38 on the Billboard Hot 100.
In March 1962 Shannon had another single on the Vancouver charts titled "Ginny In The Mirror".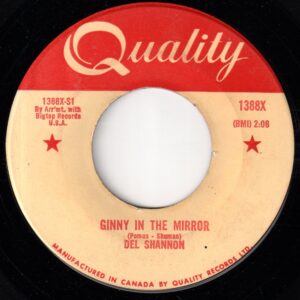 "Ginny In The Mirror" was written by Doc Pomus and Mort Shuman. Jerome Solon Felder was born in Brooklyn in 1925. He contracted polio and walked with crutches in his youth. He eventually spent much of his adult life in a wheelchair. Felder wanted to become a blues singer and billed himself as Doc Pomus because he liked it better than Jerome Felder. He wrote magazine articles for R&B recording stars. He began songwriting and wrote "Lonely Avenue" for Ray Charles in 1956. Pomus had a big break when he co-wrote "Young Blood" for the Coasters, together with Jerry Leiber and Mike Stoller. The single climbed to #8 on the Billboard pop chart in 1957. In addition to the songs mentioned above that Doc Pomus co-wrote with Mort Shuman, he also wrote "She's Not You" for Elvis Presley and "Don't Try To Change Me" for the Crickets.
With lag irons and a wheelchair, Doc Pomus gained a lot of weight. But he was the life of the party. He spent a quarter of a million dollars in earnings by 1963 and his wife left him for a career on the stage. In a review of Alex Halberstadt's Lonely Avenue: the Unlikely Life and Times of Doc Pomus, Christopher Hawtree writes that after his wife left, "Another young woman, Shirlee, came along, stayed – and shied as much from a gun-waving Phil Spector (who gave the grateful Pomus a blank cheque) as she did from the homespun gamblers with whom Pomus augmented funds. Such sessions ended when the Mob moved in, one participant ending up in the East River. Another friend's death inspired Looking for Mr Goodbar." Doc Pomus died of lung cancer at the age of 65 in 1991.
Mortimer Shuman was born in Brooklyn in 1938. Teaming up with Doc Pomus in 1957, they cowrote "Turn Me Loose" for Fabian; "A Teenager In Love" for Dion and the Belmonts, "Hushabye" for the Mystics, "Go, Jimmy, Go" for Jimmy Clanton; "This Magic Moment", "Sweets For My Sweet" and Save The Last Dance For Me" for the Drifters; "Surrender", "Little Sister", "(Marie's the Name) His Latest Flame", "Suspicion" and "A Mess Of Blues" for Elvis Presley; and "Can't Get Used To Losing You" for Andy Williams. In the mid-60s Shuman wrote "She La La La Lee" for the Small Faces.
"Ginny In The Mirror" is yet another one of many songs where the male narrator is tragically tormented by being jilted, the song finds Del Shannon in a "lonely room." Every night he wants to kiss Ginny. But she's long gone. He remembers Ginny's laughing eyes when she said goodbye. And as he feels the sounds of doom, Shannon sings "How long, can eyes keep on crying? Just how long, can I go on dying? Forty days feels more like forty years. Forty nights lying down in a bed of tears."
A mirror is an object that reflects an image. Light that bounces off a mirror will show an image of whatever is in front of it, when focused through the lens of the eye or a camera. Mirrors reverse the direction of the image in an equal yet opposite angle from which the light shines upon it. This allows the viewer to see themselves or objects behind them, or even objects that are at an angle from them but out of their field of view, such as around a corner. Natural mirrors have existed since prehistoric times, such as the surface of water, but people have been manufacturing mirrors out of a variety of materials for thousands of years, like stone, metals, and glass. In modern mirrors, metals like silver or aluminum are often used due to their high reflectivity, applied as a thin coating on glass because of its naturally smooth and very hard surface.
In the case of "Ginny In The Mirror", she is not actually physically standing behind the broken-hearted guy. Yet, Ginny is so present in the thoughts of the singer, conjured in his mind so pervasively, that Ginny appears in the mirror just the same. At least, to him.
From a comment below from Ron Gale, I was prompted to note that the A-side to Bigtop Records 3098 was "I Won't Be There". The A-side debuted on CKWX in Vancouver on February 17, 1962. But it was the B-side, "Ginny In The Mirror", which took off. As "Ginny In The Mirror" ended its chart run on the C-FUN-Tastic 50 on May 12, 1962, "I Won't Be There" began a five-week chart run, peaking at #27. The lyrics began "You treat me mean and cruel."
"Ginny In The Mirror" peaked at #1 in Vancouver (BC), #7 in Calgary (AB), and #15 in Dallas.
On June 30, 1962, Del Shannon appeared in concert at the PNE Auditorium in Vancouver (BC). That summer Shannon had another Top Ten hit with "Cry Myself To Sleep", peaking at #6 in Vancouver, but stalling at #99 on the Hot 100 in the USA. And in September 1962, he was back in the Top Ten in Vancouver with "Swiss Maid".
In 1963 Del Shannon flew to England where he toured heavily on the success of "Little Town Flirt" and to promote "Two Kinds of Teardrops." He also visited Sweden, where he was popular. By the spring of 1963 Del Shannon had seven Top Ten hits in the UK. On 18 April 1963, the Beatles were one of 15 acts to play at Swinging Sound '63, an all-star concert at the Royal Albert Hall in London. They played "From Me to You", a song just released earlier that week, and "Twist and Shout". Del Shannon was also on the line-up that night. When the concert was over Shannon told John Lennon that he was going to record "From Me to You" to give the group some exposure in America. At first, Lennon was flattered, but he quickly changed his mind. Lennon was aware that a cover version by Del Shannon might hurt the Beatles' chances of having a hit with "From Me to You" in America. In early June, Bigtop Records released Del Shannon's version of "From Me To You", which became a Top 20 hit in Vancouver.
Though Del Shannon was the first American recording artist to cover a song by the Beatles, when Beatlemania swept North America, it also swept Del Shannon out of the Top 40. His cover of Jimmy Jones "Handy Man" was a flop, as were other efforts that year, including his cover of Bobby Freeman's 1958 hit "Do You Wanna Dance". The latter was more successfully covered by the Beach Boys.
At the end of 1964 Del Shannon had one last significant hit titled "Keep Searchin'". Shannon had a few more minor hits but misjudged where to place some of his talent. He decided not to record the melancholy "I Go To Pieces" that became a hit for Peter and Gordon.
In the winter of 1964-65 Del Shannon had his last notable hit titled "Keep Searching (We'll Follow The Sun)". It spent six weeks in the Top Ten on the CKLG Boss 40, including three weeks at #6. On May 26, 1965, Del Shannon returned to perform at the PNE Forum in Vancouver (BC). His appearance was as part of the Dick Clark Caravan of Stars. Others on stage included The Zombies, Shangri-Las, Dee Dee Sharp, Jewel Aikens, Tommy Roe and others.
Shannon tried to chart a cover of Miss Toni Fisher's 1960 hit "The Big Hurt", with no success. And his cover of the Rolling Stones, "Under My Thumb", was a commercial failure.
Del Shannon struggled with alcoholism and still managed to pursue a career despite having no hits after 1965. In 1968, Shannon became a member of Alcoholics Anonymous vowing to quit his addiction to alcohol. Del Shannon and Bryan Hyland were roommates for several years in the late 60's when Shannon tried to help Hyland who was in his own career slump. Shannon produced Hyland's comeback hit in 1970, "Gypsy Woman", a remake of a 1961 R&B hit by The Impressions written by Curtis Mayfield.
After a rare concert at The Roxy Theatre in West Hollywood in 1976, The Los Angeles Times wrote, "Shannon's haunting vignettes of heartbreak and restlessness contain something of a cosmic undercurrent which has the protagonist tragically doomed to a bleak, shadowy struggle." Years later he was sought out by Tom Petty who had discussed with Shannon joining the Travelling Wilbury's after the death of Roy Orbison in December 1988. Shannon declined. Del Shannon next cancelled a revival tour to England. In mid-January 1990 he was prescribed Prozac by his therapist and began taking the medication. He grew steadily more agitated, paced around and had trembling hands. Without leaving a note, Shannon died by suicide three weeks later in early February 1990.
In 1999 Del Shannon was inducted into the Rock and Roll Hall of Fame, mostly on the strength of his biggest hit, "Runaway". That song alone has continued to generate over $100,000 a year, split between his heirs and co-writer, Max Crook.
January 21, 2022
Ray McGinnis
References:
Del Shannon Biography, Del Shannon.com.
The Hi-Lo Club, Del Shannon.com.
Richard Cromelin, "At The Roxy—Undiluted Aura of Del Shannon," Los Angeles Times, January 21, 1976.
Richard Bak, "Del Shannon's 'Runaway' Success Led to His Downfall," Hour Detroit, June 30, 2011.
"Doc Pomus Biography," Felder Pomus.com.
"Mort Shuman Dies 52; Devotee of Jacques Brel," New York Times, November 4, 1991.
Christopher Hawtree, "The Last Dance of Doc Pomus," Telegraph, UK, August 16, 2007.
Alex Halberstadt, Lonely Avenue: The Unlikely Life & Times of Doc Pomus, De Capo Press, 2007.
"C-FUNTASTIC FIFTY," CFUN 1410 AM, Vancouver, BC, March 1962.
For more song reviews visit the Countdown.