#385: Jenny Let Him Go by Antoinette
Peak Month: April 1964
9 weeks on CFUN's Vancouver Chart
Peak Position ~ #4
Peak Position on Billboard Hot 100 ~ did not chart
YouTube.com: "Jenny Let Him Go"
Marie Antoinette Daly was born in Southend, Essex, UK in 1951. She landed her first recording contract, with the Decca label, in 1964, at the age of just 13. Her debut single, "Jenny Let Him Go", was produced by Charles Blackwell, who worked with a number of gems for girl singers of the period, including French yé-yé singer Françoise Hardy and Britain's Samantha Jones. "Jenny Let Him Go" sounded like a cover of an American song – albeit with a distinctly British tang – and suited Antoinette's bratty vocals perfectly.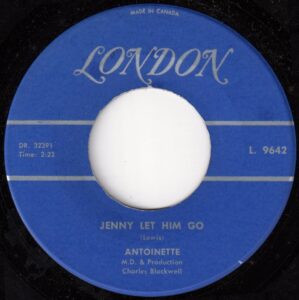 "Jenny Let Him Go" was written by Ken Lewis. Born in Small Heath, Birmingham, UK, in 1942, Kenneth Alan James Hawker formed a skiffle band around 1957 named LVI with his songwriting partner John Shakespeare. In 1960 Hawker and Shakespeare moved to London and wrote under the pseudonyms Ken Lewis and John Carter. In 1961 he co-founded a duo named Carter-Lewis and the Southerners. Jimmy Page, later of the Yardbirds and then Led Zeppelin, played guitar on a three of their non-hit singles recorded in 1963 and 1964. Lewis and Carter co-wrote the 1962 UK Top 20 hit, "Will I What?", for Mike Sarne. And in 1964 they penned "Is It True?" for Brenda Lee. Lewis and Carter formed a trio with Perry Ford in 1964 called The Ivy League, and provided backing vocals on "I Can't Explain" by The Who. They had two Top Ten hits in the UK in 1965: "Funny How Love Can Be" and "Tossing And Turning". The first of these also made the Top Ten in South Africa. While in 1964, Lewis and Carter penned "Can't You Hear My Heartbeat" for Herman's Hermits, which became a #1 hit in Vancouver (BC) in March '65. Ken Lewis and John Carter also wrote songs recorded by The Nashville Teens, The Fourmost, The Honeycombs, Freddie And The Dreamers, and Peter & Gordon,
Lewis and Carter left the Ivy League and in 1967 wrote "Let's Go To San Francisco", a psychedelic-pop hit by the Flower Pot Men. The single climbed into the Top Ten in Norway, Ireland and the UK. Also in 1967, Lewis and Carter co-wrote "A Little Bit O' Soul" for the Music Explosion, which became a #2 hit in Vancouver (BC) and on the Billboard Hot 100. (Meanwhile John Carter provided lead vocals for the New Vaudeville Band's number-one 1966 hit "Winchester Cathedral". And later was lead vocalist for Kincade and their hit "Dreams Are Ten A Penny", and lead vocalist for First Class and their 1974 Top Ten hit "Beach Baby"). Suffering from depression, Ken Lewis left the music industry in 1971, and devoted himself to charity work. He died in 2015 at age 74 from complications related to type 1 diabetes.
The lyrics to "Jenny Let Him Go" concern someone who is in love with Jenny's boyfriend. The singer lets Jenny know that it's time she let go of her relationship. This is so the other girl who is in love with the boyfriend, and "need[s] him so," can have him to herself. Unless she can convince Jenny to break up with her boyfriend to date the singer, who warns that she'll "die." Moreover, the other girl accuses Jenny of not loving her boyfriend. The singer alleges "you don't want him… you don't love him… you don't need him." Jenny doesn't even care for her boyfriend. Apparently, the perceptive singer has figured all of this out, though the penny hasn't dropped for Jenny's boyfriend (who presumably isn't making any moves to break up with Jenny).
There were a number of songs by "girl" singers and 'girl groups' in the early to mid-sixties. And some of these concerned women in competition for a guys' affections. Lesley Gore trumpeted that it was "Judy's Turn To Cry" when Johnny came back to her. This was the sequel to Gore's birthday party being wrecked when Judy danced too close to Johnny in "It's My Party". The Marvelettes warned the other girls to keep away from a boyfriend in "Don't Mess With Bill". And Marcy Joe was very happy with "Ronnie" until another girl stole his heart, and Ronnie away from her. While Helen Shapiro, singing as an ex-girlfriend in "Tell Me What He Said", asks her friends at a party – if they see her ex-boyfriend to "tell him…that I want him back again." This request is made in the context of the ex-boyfriend who is "going with another now." Clearly the singer doesn't think the new relationship is meant to last. While, in some cases a girl singer warned her boyfriend to stay away from her boyfriend in Babs Tino's "Keep Away From Other Girls". And in "Ronnie, Call Me When You Get A Chance", Shelley Fabares wanted to explain to her boyfriend that what appeared to be flirting with other boys on her part, wasn't the case. In Barbra Streisand's "My Coloring Book" she sings about a man who she thought "would always be true." She sings "these are the beads I wore before she came between, color them green…. This is the man, the one I depended upon. Color him gone."
There were also songs about guys who were unfaithful, though in some cases the girlfriend was willing to put up with his dalliances. Some examples of this are "Baby It's You" by the Shirelles – "you should hear what they say about you – cheat, cheat. They say, they say you"ll never, ever, ever, be true – cheat, cheat." In "Let Me Tell You About Johnny", Dodie Stevens warned other girls that all Johnny wanted to do was date them, and then break their hearts by dumping them.
"Jenny Let Him Go" peaked at #4 in Vancouver (BC) for three weeks. It made the pop charts in both Montreal and Ottawa (ON). However, it didn't crack the Top 20 elsewhere in Canada or the USA.
Antoinette switched to the Piccadilly label for her next single, "There He Goes (The Boy I Love)", released in September 1964. The song had a Shangri-Las-esque feel. The B-side was a cover of Kitty Kallen's 1954 number-one hit "Little Things Mean A Lot". When it also flopped, Piccadilly turned to the US for inspiration. First up was the Sapphires' "Thank You For Loving Me". In the hands of another singer, the song could have ended up needing to be issued with a diabetic warning, but Antoinette's vocals managed to keep it from becoming too sugary sweet.
Antoinette followed next with "Our House", and then a cover of American R&B singer Tami Lynn's "I'm Gonna Run Away From You", retitled "Why Don't I Run Away From You". It fitted Antoinette's sparky style. Next, Antoinette released a cover of the American girl group the Poppies' "Lullaby Of Love" as her final 45 for Piccadilly in 1966. The equally good – if not better – "I'm For You", a cover of Carla Thomas' soul number, was chosen for the B-side.
Antoinette switched labels again, this time to Columbia, for one further 45 in 1966, "Like The Big Man Said", a cover of Italian singer Caterina Caselli's L'uomo d'oro, under the name Toni Daly. When the single failed, her contract slipped.
Antoinette "Toni" Daly met jazz musician Kenny Baxter when he was performing at the 6th National Jazz & Blues Festival in Windsor, UK, July 29-31, 1966. In 1967 Toni Daly appeared as a singer in a night club in the sci-fi/horror film The Sorcerers, starring Boris Karloff.
In the following years Kenny Baxter and Toni Daly were wed and she became Toni Baxter. In 2014, on the first Thursday or the month, Kenny Baxter's band was featured at the Hamlet Court pub in Westcliff-on-Sea, Essex, on the east coast of England. Toni Baxter was often featured as a jazz vocalist with her husband's band for many years. She died in 2016 at the age of 65.
November 20, 2020
Ray McGinnis
References:
Stephen W. Petchy, "The Sad Passing of Toni (1951 – 2016)," Rebels Lane.org.
"Carter-Lewis & The Southerners," Forgottenbands.com, October 2010.
"C-FUNTASTIC FIFTY," CFUN 1410 AM, Vancouver, BC, April 1964.
For more song reviews visit the Countdown.