#170: Lucky Devil/There's A Little Song Singing In My Heart by Carl Dobkins Jr.
A-side: "Lucky Devil"
Peak Month: February 1960
11 weeks on Vancouver's CFUN chart
Peak Position #1
Peak Position on Billboard Hot 100 ~ #25
YouTube.com: "Lucky Devil"
Lyrics: "Lucky Devil"
B-side: "(There's A Little Song Singing) In My Heart"
Peak Month: February 1960
12 weeks on Vancouver's CKWX chart
Peak Position #12
Peak Position on Billboard Hot 100 ~ #52
YouTube.com: "(There's A Little Song A-Singing) In My Heart"
Carl Dobkins Jr. was born in Cincinnati, Ohio, in January 1941. He was raised in a musical family. At the age of nine Carls' mom and dad bought him a ukulele with a plastic Arthur Godfrey attachment that played chords by pushing buttons. He soon took off the attachment and learned over fifty hillbilly songs as a child. At the age of sixteen, young Carl made a demo of two songs he wrote with his backup group, The Seniors. In Cincinnati Gil Sheppard was a popular deejay. Friends in Carls' neighborhood introduced him to Gil Sheppard. The deejay was taken with young Dobkins Jr. and his musical ability and the demo he had recorded. Sheppard offered to become his his manager. Carl Dobkins Jr. was promoted as "The Teenage Rage." As a result of the buzz that happened as a result of his singing at dance parties and record hops, Carl was signed up with Fraternity Records in Cincinnati. His only release with Fraternity was his 1958 single "Take Hold of My Hand" b/w "That's Why I'm Asking".
His next songs, "Love Is Everything" and "If You Don't Want My Lovin'", were sold to Decca Records. "If You Don't Want My Lovin'" became a regional hit in Cincinnati and went all the way to #1 in Charleston, West Virginia, and in October 1959 to #21 in Vancouver. Dobkins Jr. then recorded sessions for Decca in Nashiville, Tennessee which included "My Heart is an Open Book", in 1959. Initially, Carl didn't like the song. It had been given earlier to country singer, Jimmy Dean, who failed to get a hit out of it. For six months "My Heart Is An Open Book" languished in record shelves of radio stations that had passed over the song. Decca sent a second round of promotional copies to radio stations who finally gave the disc a spin. That single climbed in July 1959 to #8 in Vancouver, down to #11 for two weeks on CKWX and back up to #8 in August during an 18-week chart run. "My Heart Is An Open Book" peaked at #3 on the Billboard Hot 100.
Carl was featured frequently at Castle Farms, and on television for the Bob Braun Show in Cincinnati. He appeared fourteen times as a guest on Dick Clark's American Bandstand. This helped "My Heart Is An Open Book" climb into the Top Ten of the national pop charts in the USA.
On his debut album, the liner notes exclaimed "It's rare enough to know what you want to do at eighteen. But to have done it, and with the staggering success of Carl Dobkins recording of My Heart Is An Open Book, is indeed unique. The young Cincinnati-born singer and song-writer has become, in accordance with his lifelong ambition, one of the top male vocalists in the country. He was spotted by Decca while entertaining at a dance in his hometown."
While "My Heart Is An Open Book" climbed the pop charts, Carl had joined the U.S Army Reserves. Scheduled to be on a six month tour of duty, he was quickly taken back to the recording studio in Nashville to keep his star appeal before the fickle pop music audience. Decca re-released his first single with their label, "If You Don't Want My Lovin'".
Next, Decca released his single "Lucky Devil" backed with "(There's A Little Song A-Singing) In My Heart".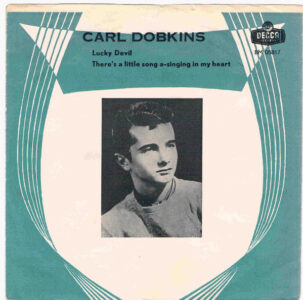 "Lucky Devil" was cowritten by Aaron Schroeder and Wally Gold. In 1928, Wally Gold was born in Teaneck, New Jersey. He formed the Four Esquires in 1956 who had a Top 30 hit with "Hideaway". Gold wrote "Look Homeward, Angel", a hit for Johnnie Ray in 1957. In the 1960's he co-wrote Elvis Presley's "Good Luck Charm" and "It's Now Or Never", "Because They're Young" for Duane Eddy, "She Can't Find Her Keys" for Paul Petersen, Lesley Gore's "It's My Party" and Gene Pitney's "Half-Heaven, Half-Heartache." He also wrote minor hits for Dodie Stevens, Frankie Avalon, Gene Vincent, Brook Benton, Pat Boone, Jackie De Shannon, Cliff Richard, Shirley Bassey, and the Diamonds. Later in the decade, he produced albums for Barbra Streisand, Jerry Vale, and Tony Bennett. In the 1970's, he discovered the group Kansas, who had a Top Ten hit with "Dust In The Wind". Gold was later the music coordinator for Don Kirshner's Rock Concert television series. Wally Gold died at the age of 70 in 1998.
Aaron Schroeder was born in Brooklyn in 1926. He wrote "At a Sidewalk Penny Arcade" for Rosemary Clooney in 1948. Schroeder wrote 17 hit songs for Elvis Presley including five that topped the charts: "A Big Hunk o' Love", "Good Luck Charm", "I Got Stung", "It's Now Or Never" and "Stuck On You". He also wrote songs recorded by Chaka Khan, Roy Orbison, Frankie Lymon & The Teenagers, Nat "King" Cole, Perry Como, Guy Mitchell, The Playmates, Barry White, Tony Bennett, Dionne Warwick, Pat Boone, "Bandit Of My Dreams" for Eddie Hodges, "I'm Gonna Knock On Your Door" for the Isley Brothers in 1959 which was successfully covered by Eddie Hodges, "First Name Initial" for Annette, "Cincinnati Fireball" for Johnny Burnette, "Rubber Ball"" for Bobby Vee, "Because They're Young" for Duane Eddy, the Staple Singers and Paul McCartney. Schroeder also wrote "French Foreign Legion" for Frank Sinatra. Schroeder also produced numerous hits for Gene Pitney that included "I Wanna Love My Life Away", "Town Without Pity", "(The Man Who Shot) Liberty Valance", "Only Love Can Break A Heart" and "24 Hours From Tulsa". Aaron Schroeder later became an international music representative for Hanna-Barbera Productions and provided music, singers and songs for "The Banana Splits" and "Scooby Doo, Where Are You!" Aaron Schroeder had a cameo appearance as a songwriter in the 1957 rock 'n roll film Jamboree, and once appeared on the TV panel show To Tell The Truth.
"Lucky Devil" is a song about a guy who meets an angel on earth. Though she doesn't have a harp or wings, she takes him to heaven each time they touch. Though he doesn't have a pitchfork or horns, he feels he's "the luckiest devil that ever was born. Schroeder and Gold had memorable lines in the song such as "Now your love is a treasure and I know what it's worth I'm the only devil that's on heaven on earth."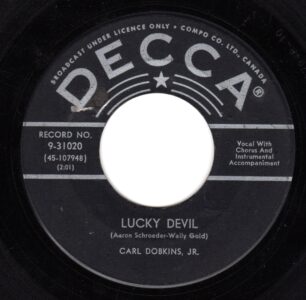 "Lucky Devil" peaked at #1 in Vancouver (BC) and Renton (WA), #2 in Potsdam (NY) and La Crosse (WI), #3 in Wichita (KS), Dubuque (IA), and Peoria (IL), #4 in Lake City (FL) and Edmonton (AB), #5 in Albuquerque (NM), Toronto, Green Bay (WI), and Ottawa (ON), #6 in Denver, Cicero (IL), and Little Rock (AR), #7 in Rochester (NY), Topeka (KS), Chicago, Lafayette (LA), Saginaw (MI), and London (ON), #8 in West Yarmouth (MA), Waterloo (IA), Great Falls (MT), Milwaukee (WI), and Tifton (GA), #9 in Phoenix, #10 in Boston and Evanston (IL), #11 in Minneapolis/St. Paul, and #14 on WIBG in Philadelphia, and KEX in Portland (OR).
"(There's A Little Song A-Singing) In My Heart" was cowritten by Roy C. Bennett and Sid Tepper. Bennett was born in Brooklyn, New York, in 1918 with the birth name Israel Brodsky. His family were recently arrived Eastern European immigrants. While he was a child he met Sid Tepper, who was also born in 1918, but in New York City. They began writing songs from the age of eleven. They both were drafted into the U.S. Army in World War II. In 1945 they began to publish songs in the Brill Building on Broadway.
When they were in their twenties, Bennett and Tepper got their first big break with "Red Roses For A Blue Lady", a #4 hit for Vaughan Monroe in 1949. They co-wrote "Suzy Snowflake" for Rosemary Clooney who had a Christmas hit with the tune in 1951. The Ames Brothers had a hit by this songwriting team in 1954 that climbed to #3 titled "The Naughty Lady Of Shady Lane".
In 1955, Bennett and Tepper wrote "Nuttin' for Christmas", a #6 hit for Art Mooney and His Orchestra, featuring six-year-old Barry Gordon. Then in 1958 Tepper and Bennett scored a #6 hit for Perry Como titled "Kewpie Doll". In 1960 they wrote "(There's A Little Song A-Singing) In My Heart" for Carl Dobkins Jr. Tepper and Bennett wrote five songs for the Elvis Presley film and soundtrack of Blue Hawaii. They wrote 37 other songs that Elvis recorded including "G.I. Blues" and "Puppet On A String". They also penned the only Presley song nominated for an Oscar, "It's a Wonderful World" (which was in Roustabout). Other recording artists who recorded Tepper and Bennett tunes include Jo Stafford, Dean Martin, Wayne Newton, Eartha Kitt, Dave Brubeck, Gogi Grant, Carl Perkins, Jim Reeves, Connie Francis, Joanie Sommers, Conway Twitty, Helen Shapiro, Jerry Keller, "D in Love" for Cliff Richard, and The Searchers.
Between 1945 and 1970 the songwriting team published over 300 songs. Both Bennett and Tepper died in 2015, months apart.
"(There's A Little Song A-Singing) In My Heart" is a song about the outcome of kissing and holding tight to one's sweetheart under the moon. The whole setting inspires dreams of a life together for the young couple. "(There's A Little Song A-Singing) In My Heart" peaked at #7 in Vancouver and #15 in Jefferson City (MO).
Dobkins next single release, "Exclusively Yours", climbed to #24 during a 6-week chart run in Vancouver. It coincided with Carl Dobkins Jr.s being discharged after serving his time in the U.S. Army Reserves. His next release, "Lovelight" missed the Billboard Hot 100. But the B-side,"Take Time Out", reached #6 in Vancouver.
Meanwhile, Decca Records released nine singles for Carl Dobkins Jr. Of those nine releases, six discs were spun on local Vancouver radio stations producing seven Top 40 hits, including four songs that charted into the local Top Ten. While Carl Dobkins Jr. was almost a one-hit-wonder in most radio markets in North America, he racked up a solid 51 weeks on the local pop charts between May 1959 and February 1962.
While in the music business, Dobkins Jr. toured extensively across America, Canada and Europe. Other artists he has shared the stage with at a concert performance include Frankie Avalon, Freddie Cannon, The Casinos, The Chiffons, Jimmy Clanton, The Crests, The Crickets, Joey Dee & the Starlighters, The Del Vikings, Ronnie Dove, The Drifters, Fabian, The Fleetwoods, Frankie Ford, Bobby Freeman, Bryan Hyland, Buddy Knox, Hollywood Argyles, Jan & Dean, Johnny & the Hurricanes, Brenda Lee, Lemon Pipers, Barbara Lewis, Jerry Lee Lewis, Lonnie Mack, Peter Noone, Ray Peterson, Pure Prairie League, Bobby Rydell, The Skyliners, Johnny Tillotson, Bobby Vee, The Vogues and others.
After several attempts to get another hit single during the 60's on the Atco, Colpix and Chalet record labels, Carl Dobkins Jr. left the music business.
He followed in his father's footsteps and got a job with a trucking company. However, he did end up doing occasional concerts in the decades that followed, including a tour to Europe with Buddy Knox and Frankie Ford.
Carl Dobkins Jr. died at the age of 79 in April 2020.
May 2, 2022
Ray McGinnis
References:
Carl Dobkins Jr., Rockabillyhall.com
Michael Jack Kirby, "Carl Dobkins Jr. My Heart Is An Open Book," waybackattack.com.
"Wally Gold," Discogs.com.
Dennis McLellan, "Aaron Schroeder Dies at 83; Prolific Songwriter for Elvis Presley and Others," Los Angeles Times, December 4, 2009.
Carmel Dagan, "Roy C. Bennett Dies at 97; Wrote Songs for Sinatra, Elvis, the Beatles," Variety, July 9, 2015.
Nick Deriso, "Elvis Presley Songwriter Sid Tepper Dies at 96," Ultimate Classic Rock.com, April 26, 2015.
"Hi-Fi Forty," CFUN 1410 AM, Vancouver, BC, February 6, 1960.
"Fabulous Forty," CKWX 1130 AM, Vancouver, BC, February 29, 1960.
For more song reviews visit the Countdown.