#131: That's Where I Went Wrong by the Poppy Family
Peak Month: January 1970
11 weeks on Vancouver's CKLG Survey
1 week Hit Bound
Peak Position ~ #1
Peak Position on Billboard Hot 100 ~ #29
YouTube: "That's Where I Went Wrong"
Lyrics: "That's Where I Went Wrong"
Susan Pesklevits was born in 1948 in Saskatoon, Saskatchewan. When she was seven years old she was a featured singer on a local radio station. At the age of eight her family moved to the Fraser Valley town of Haney, British Columbia. When she was 13 years old she had her own radio show. In a December 1966 issue of the Caribou newspaper, the Quesnel Observer noted that Susan Pesklevits had auditioned for Music Hop in the summer of 1963 when she was only 15 years old. She had her first public performance at the Fall Fair in Haney when she was just 14 years old. It was noted she liked to ride horseback, ride motorcycles and attend the dramatic shows. Asked about what she could tell the folks in Quesnel about trends in Vancouver, Pesklevits had this to report, "the latest things in Vancouver are the hipster mini-skirts, bright colored suit slacks, and the tailored look. The newest sound is the "Acid Sound," derived from L.S.D…. it is "pshodelic" which means it has a lot of fuzz tones and feed back. As an example, she gave "Frustration" recorded by the Painted Ship" a local band from Vancouver. Pesklevits added that on the West Coast "the latest dance is the Philly Dog. It mainly consists of two rows, one of girls and one of boys. The idea is to take steps, move in unison, while doing jerking motions and using a lot of hand movement."
In the summer of 1966 Pesklevits formed a trio with Tom Northcott and Howie Vickers called The Eternal Triangle who released one single titled "It's True". Vickers went on to form The Collectors which later morphed into Chilliwack.
Terrence Ross Jacks was born in Winnipeg, Manitoba, in 1944. March 29, 1944, Winnipeg, Manitoba. During his career as a recording artist he became a household name and recognized as a singer, songwriter, record producer and environmentalist. His family moved to Vancouver in 1961 and he formed a band named The Chessmen along with local guitarist, Guy Sobell. The Chessmen had four singles that made the Top 20 in Vancouver, two which were double-sided hits. These included "Love Didn't Die", "The Way You Fell" and "What's Causing This Sensation", and Top Ten hits. Jacks met Susan Pesklevits who had him recommended to her by a friend who knew she was looking for a rhythm guitarist. Pesklevits needed a rhythm guitarist to help with her upcoming gig at the Elks Club in Hope, British Columbia, in early September 1966. They were married in 1967 and she became Susan Jacks. In 1967, along with Craig McCaw who had been a member of the Kelowna band The Shadracks, they formed a trio called Powerline. They changed their name to The Poppy Family and Craig subsequently sought out a young tabla player in Vancouver named Satwant Singh. Terry and Susan Jacks agreed to have Singh join The Poppy Family.
On June 26, 1968, the Poppy Family gave a concert at the Village Bistro in Vancouver. They returned to the venue to perform on November 26, 27 and 28th. They also gave a concert in Vancouver at the Kiview Boys Club on November 10, 1968. In the fall of 1968, the Poppy Family had a regional hit with "Beyond The Clouds".
On January 23rd, February 28th, and on March 14, 1969, the Poppy Family gave concerts at the UBC Student Union building in Vancouver. Their follow up in 1969 was a gentle anti-racist, pro-environmental, pro-marijuana legalization tune titled "What Can The Matter Be". It appeared on the CKLG Boss 30 the week of March 21, 1969.
Their next single, "Which Way Is Going Billy?" went #1 in Vancouver in became an international hit. Terry Jacks won a Juno Award for this recording. The Poppy Family racked up numbers of Top 30 singles in Vancouver including local #1 hit "That's Where I Went Wrong" in January 1970.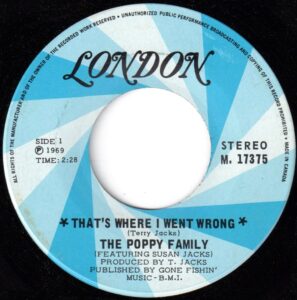 "That's Where I Went Wrong" is a song that is set on a bus ride, like a Greyhound. The song written by Terry Jacks, was sung by Susan Jacks. A woman is riding by herself on a bus traveling between towns. She starts talking to a stranger and asks "What's your name? I'm so far from my home. And I'm tired. I don't want to be alone. And I need someone to talk to me. 'Cause the one who used to talk to me, well, he don't want me." She complains "this bus is awful cold, we've gone so many miles."
She shows the stranger a ring she is still wearing. She agrees "it's pretty." But tells the stranger "this ring and everything means nothing anymore." She apologizes to the stranger for "being such a bore." Turning from the stranger to ruminate about her circumstances alone, she pleads "God please help me go to sleep and forget him for awhile." Regarding the breakup, the young woman takes all the responsibility for it. She tells herself "I know it's not his fault, I've known it all along. I was the one that trusted him, that's where I went wrong."
Turning again to the stranger, she says "This old road, I don't know where it leads. And I don't care. 'Cause it's not hard for me to see that when it ends, there'll be nothing there for me. 'Cause the only thing I care about, I'd rather live without." We can imagine the stranger asking if she had considered counseling to help her with her bleak outlook. But that verse was never written.
"That's Where I Went Wrong" peaked at #1 in Vancouver, #2 in Victoria (BC), Chattanooga (TN), and Erie (PA), #3 in Calgary (AB), Birmingham (AL), and Fort Lauderdale, #4 in Edmonton (AB), and Detroit, #5 in Windsor (ON), and La Crosse (WI), Sioux Falls (SD), Wausau (WI), Norfolk (VA), and Springfield (VT), #6 in Buffalo, Augusta (GA), Astoria (OR), Cincinnati (OH), Nashville, and Louisville (KY), #7 in Saginaw (MI), Columbus (OH), Montgomery (AL), St. Louis, Fresno (CA), San Bernardino (CA), and Bowling Green (KY), #8 in Ottawa (ON), Battle Creek (MI), Chicago, Johnstown (PA), and Sarasota (FL), #9 in Toronto, Tampa, Fort Wayne (IN), Lincoln (NE), Saint Charles (MO), Yakima (WA), Pensacola (FL), and Denver, and #10 in Grand Rapids (MI).
"I Was Wondering" was a number-one hit in Vancouver in April 1971. Concurrently, Terry Jacks released several solo records. The first was "I'm Gonna Capture You", followed in 1972 with the pro-environtalmental tune "Concrete Sea".
Before Poppy Seeds both Craig McCaw and Satwant Singh had left the Poppy Family. In 1971 Singh co-wrote a children's song titled "Country Kangaroo", recorded by Mary-Lou Buttons. And in 1975 Singh was a session musician on several tracks for Canadian country recording artist Mya.
"No Good To Cry" was the third of six singles released on the Poppy Family's second album, Poppy Seeds. It was a cover of the Connecticut band, the Wildweeds, 1967 regional hit. The Wildweeds song charted far higher in Vancouver (BC) than most radio markets in the USA. So it was a good bet for the Poppy Family to cover, pinning their hopes on another breakout hit in the USA. The singles from Poppy Seeds were released in 1971 and 1972 in the following order: "I Was Wondering," "Where Evil Grows", "No Good to Cry", "I'll See You There", "Good Friends" and "I Thought of You Again".
And on May 24, 1972, the Poppy Family gave a concert at the Chilliwack Coliseum in Chilliwack – about a 90 minute drive east of Vancouver.
While Susan enjoyed performing live, Terry Jacks wasn't interested in touring. As a consequence, The Poppy Family lost the momentum they had briefly achieved internationally and their career was hampered. The professional relationship began to unravel and so did the marriage. Susan Jacks may have taken her own advice after the marriage ended in divorce and told herself "it don't do no good to cry."
In fact, the lyrical trajectory of most of the subject matter released by the Poppy Family was brooding about relationships ending and regrets. "That's Where I Went Wrong" finds a single woman asking if she can confide to the stranger beside her riding on a bus:
Cause the one that used to talk to me/well he don't want me/See this ring? Tell me what's it mean to you/Yeah, it's pretty, but to me it just rang true/I'm so sorry for being such a bore/'Cause this ring and everything means nothing anymore." And in "I Was Wondering" Susan Jacks asks: "I was wondering if you cried today/for the love that died here yesterday?/Tears are something people hide away…"
Susan Jacks went on to record over a dozen singles that charted on either the Canadian pop charts, the country or the Adult Contemporary charts in the nation. She was nominated for a Juno Award in 1974 for Best Female Vocalist, but lost out to Anne Murray. That same year Terry Jacks won the Best Male Vocalist, and was nominated again in 1975 (losing out to Gordon Lightfoot). In the midst of her string of hit singles she had a son and took a few years out of the music scene as a young mother. She married Canadian Football player Ted Dushinski in 1980. She won a Juno nomination for her single, "All The Tea in China", in 1982, which charted best in Ottawa.
In 1983 Susan Jacks moved with her family to Nashville, Tennessee, and had a award winning country hit titled "Another Woman's Man" in 1984. She became a staff songwriter in Nashville. After her husband died in 2004 after a cancer diagnosis, Susan Jacks moved back to Canada only to suffer kidney failure. Some years later her brother, Billy, donated a kidney for a successful transplant operation. More recently she has faced health challenges again with her kidneys.
Meanwhile, in 1974 Terry Jacks had an international hit titled "Seasons In The Sun". Jacks released eight more singles though only one of these, "Christina", made the local pop charts. He went to produce records for other recording artists including Nana Mouskouri, Valdy, George Jones and Buddy Knox.
After the mid-70s, Terry Jacks withdrew from the music industry. He got remarried, moved to Haida Gwai and became a father. In 1985 he formed Environmental Watch. Jacks also produced a number of documentary short films over the following decades on the environment with titles The Faceless Ones, The Tragedy of Clearcutting, The Southern Chilcotin Mountains and The Warmth of Love (The Four Seasons of Sophie Thomas).
On the Roundhouse website in Vancouver, Craig McCaw writes that after he left the Poppy Family in 1970, he studies "composition and theory in Delhi India under Asad Ali Kahn. I returned to Vancouver to play in many bands and on many recording sessions. My long time love of astronomy eventually led to the HR MacMillan Planetarium. Working in a wide variety of roles including special FX design, air brush art, and scripting work, it seemed inevitable that music would get into the mix and I became the defacto resident composer at the Planetarium composing the music scores, recording the narration, and mixing the audio for dozens of Planetarium shows over 20 years and releasing two Planetarium soundtrack albums. One of these albums was released in 1978 and titled A Journey Through The Galaxy. Satwant Singh was one of the studio musicians on the album.
In 1994 Satwant Singh was a studio musician on the Australian band Single Gun Theory's album Flow, River Of My Soul.
On July 9, 2014, the Poppy Family performed in concert at the Fox Cabaret in Vancouver. And three days later on July 12th, they appeared at the Khatsahlano Street Party on Vancouver's West 4th Avenue.
In 2016 Terry Jacks suffered two strokes. Susan Jacks died in April 2022 awaiting a kidney transplant.
August 8, 2022
Ray McGinnis
References:
susanjacks.com (bio)
Terry Jacks Facebook.com page (bio)
Professional Talent Highlights Knot Hole, Quesnel Observer, December 1966
John Mackie, Susan and Terry Jacks Fight Serious Health Issues in Hospital, Vancouver Sun, September 21, 2016.
Brian Greene, "Susan Jacks interviewed by Brian Greene," Scram, November 28, 2006.
MQ, "Interview with Terry Jacks of The Poppy Family," Stage Door, Vancouver (BC), May 7, 1970.
"Terry Jacks, Recording Artist, Producer and Filmmaker," Sophie Thomas.org.
Craig McCaw, "Craig F. McCaw Original Music for Television, Film, & Planetariums," Roundhouseproductionshows.com.
Camille Bains, "Poppy Family singer-songwriter Susan Jacks dies at 73 in B.C. hospital awaiting 2nd kidney transplant," CBC, April 26, 2022.
"Boss 30," CKLG 730 AM, Vancouver, BC, January 23, 1970.
For more song reviews visit the Countdown.