#440: Velvet Waters by the Megatrons
Peak Month: August 1959
14 weeks on Vancouver's CKWX chart
Peak Position #6
Peak Position on Billboard Hot 100 ~ #51
YouTube: "Velvet Waters"
Frank Haywood Henry was born in 1913 in Birmingham, Alabama. He first learned to play the clarinet. But he later learned the baritone saxophone, which became his primary instrument. While in college he became a member of the Bama State Collegians in 1930. That student jazz band became the band for Erskine Hawkins Orchestra in 1934. Heywood Henry was a member of the Erskine Hawkins Orchestra from 1934 into the early 1950s. Hawkins and his orchestra were a house band at the Savoy Ballroom in Harlem in the late 1930s. Their sign-off song was "Tuxedo Junction". Erskine Hawkins Orchestra participated in a battle of the bands with bandleaders Glenn Miller, Lionel Hampton and Duke Ellington. Haywood Henry was one of the musicians in the recording studio for "Tuxedo Junction", "Until The Real Thing Comes Along", "Five O'Clock Whistle" and "Bicycle Bounce" – all hit records on the pop music charts.

With Erskine Hawkins Orchestra, Haywood Henry also played saxophone on the number one R&B hit records "Don't Cry Baby" (#1/1943) and "Tippin' In" (#1/1945). Henry also played on other of Erskine Hawkins eleven Top Ten R&B hits between 1943 and 1950, including "Caldonia" (#2/1945), "Fifteen Years (And I'm Still Serving Time)" (#4/1945), "I've Got A Right To Cry" (#2/1946) and "Hawk's Boogie" (#2/1947).
Haywood Henry was a session musician and was in the studio with R&B singer Ruth Brown for her string of Top Ten hits on the Billboard R&B chart. These include "So Long" (#4/1949), "Teardrops From My Eyes" (#1/1950), "Daddy Daddy" (#3/1952), "5-10-15 Hours" (#1/1952), "Wild, Wild Young Men" (#3/1953), "(Mama) He Treats Your Daughter Mean" (#1/1953), "Mambo Baby" (#1/1954), "Oh What A Dream" (#1/1954), "As Long As I'm Moving" (#4/1955) and "Lucky Lips" (#6/1957).
In 1950 Heywood Henry contributed baritone saxophone on "Double Crossing Blues" for Little Esther Phillips at the Savoy Records studio. The single became a number one hit on the R&B charts later that year. Henry was also in the Aladdin Records studio in 1950, with Charles Brown for his recording of "Seven Long Days". The single became a #2 hit on the R&B charts in the USA in November, 1951. Henry was a session musician for Fletcher Henderson, Varetta Dillard, Amos Milburn and Bill Doggett.
Haywood Henry was in the Aladdin Records studio with Billie Holiday in April, 1951, for her recording of "Detour Ahead", "Blue Turning Grey Over You" and "Rocky Mountain Blues". In April 1954, Heywood Henry was in the Atlantic Records studio playing saxophone on the recording by Big Joe Turner of "Shake, Rattle And Roll." The single became a number one hit on the Billboard R&B chart. In 1955 Henry played both tenor saxophone and baritone saxophone on the Big Maybelle recording of "Whole Lotta Shakin' Goin' On". In 1957, the song was successfully covered in the rock genre by Jerry Lee Lewis. And in November 1956, Heywood Henry played baritone saxophone on "I Put A Spell On You" by Screamin' Jay Hawkins.
In 1959 Haywood Henry and an obscure musician/songwriter named William Plunkett became an instrumental duo. They called themselves the Megatrons. Their first release was "Velvet Waters" written by Plunkett.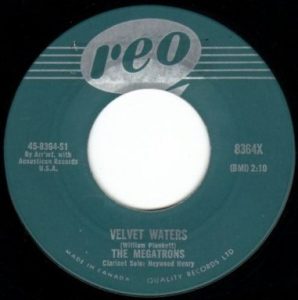 On "Velvet Waters" Haywood Henry contributed the clarinet solo for a mellow piece of music between other discs spun on CKWX that summer like "Lonely Boy" by Paul Anka, "Personality"by Lloyd Price, "Lipstick On Your Collar" by Connie Francis, "A Big Hunk Of Love" by Elvis Presley and "Battle Of New Orleans" by Johnny Horton.
The clarinet was invented around the year 1700 by Johann Christoph Denner in Nuremberg. Denner is said to have added a register to the chalumeau, a late baroque single-reed woodwind instrument. During the Late Baroque era Bach, Handel and other composers were creating new compositions that were challenging the skills of trumpeters. They required trumpeters to play difficult melodic passages in the high, or as it came to be called, clarion register. At the time, trumpets had no valves or pistons. Consequently, these melodic passages by Bach and Handel often required the trumpeter to play the highest part of the trumpet's range. Here, the harmonics were close enough together to produce scales of adjacent notes as opposed to the gapped scales or arpeggios of the lower register. The trumpet parts that required this specialty became known by the term clarino. Soon, trumpeters who could manage this musical skill were referred to as clarinos. At first the clarinet was referred to as a "mock trumpet."
1959 was a year when instrumentals had a good chance of becoming a hit. Among the instrumental hits that year were "The Happy Organ" by Dave "Baby" Cortez, "Sleep Walk" by Santo & Johnny, "Teen Beat" by Sandy Nelson, "In The Mood" by the Ernie Fields Orchestra, "Quiet Village" by Martin Denny & His Orchestra, "Petite Fleur" by Chris Barber's Jazz Band, "Guitar Boogie Shuffle" by the Virtues, "Manhattan Spiritual" by Reg Owen & His Orchestra, "Peter Gunn" by Ray Anthony & His Orchestra, "Raw Hide" by Link Wray & His Wray Men, "Bongo Rock" by Preston Epps, "Red River Rock" by Johnny & The Hurricanes, "Forty Miles Of Bad Road" by Duane Eddy and "Tall Cool One" by the Wailers.
The clarinet is a very uncommon instrument in pop-rock music. But there are some standout examples where the instrument is notable. These include "When I'm Sixty-Four" by the Beatles from Sgt. Pepper's Lonely Hearts Club Band, which featured a clarinet trio. Another track from that album, "A Day In A Life", featured two clarinetists. From the Beatles Magical Mystery Tour album, "I Am The Walrus" included an orchestra comprised of session musicians who variously played violins, cello, horns and clarinet. While on the The Beatles White Album, the band had a clarinet duo play on "Honey Pie", and also on "Good Night". On the Beatles album, Abbey Road, recorded in 1969, the clarinet was featured on "Here Comes The Sun". On their Apple Record label, the Beatles signed Mary Hopkin whose single "Those Were The Days" featured a clarinet.
In 1977 "Low Rider" by War included both saxophone and clarinet. Pink Floyd employed session musicians for "Outside The Wall", the final track on their 1979 album The Wall. Progressive British rock band Supertramp included the clarinet on several tracks on their albums: Crime Of The Century, Crisis? What Crisis?, Even In The Quietest Moments, and Breakfast In America. The latter album from 1979 featured the clarinet on "Breakfast In America" and "Take The Long Way Home". Additionally, Billy Joel featured clarinet on a number of tracks on his 1977 album The Stranger. The instrument was also featured in his 1979 single, "My Life", featuring Ritchie Cannata on clarinet.
"Velvet Waters" peaked at #2 in Phoenix, #4 in Albany (NY) and Fort Dodge (IA), #6 in Vancouver (BC) and Boston, #7 in San Bernardino (CA) and #14 in Ottawa (ON). But in forty states in the USA, "Velvet Waters" received little or no airplay. As a result the single stalled at #51 on the Billboard Hot 100.
In October 1959, the Megatrons released a followup single titled "Tootie Flutie". The single got some airplay in a few radio markets in New York, Pennsylvania, California and Virginia. A subsequent single, "Ranchero" was a charted single on KFXM in San Bernardino (CA) in September 1960. A final single titled "By The Waters Of The Minnetonka" got some airplay in radio markets in Texas and Arizona in early 1961.
Heywood Henry later contributed baritone saxophone on "Bumble Bee" for LaVern Baker in 1960, later covered by the Searchers. He was in the recording studio for "One Mint Julep" by Ray Charles, a Top Ten hit in 1961. Henry also was a saxophonist on the number one hit that year by Bobby Lewis called "Tossin' And Turnin'". In 1963 Henry contributed saxophone on the #2 R&B hit for Solomon Burke titled "If You Need Me". He contributed baritone saxophone on Aretha Franklin's Lady Soul album in 1968, including the tracks "Chain Of Fools", "Since You've Been Gone (Sweet Sweet Baby)" and "(You Make Me Feel Like) A Natural Woman". Others he did session work with include James Brown, Illinois Jacquet, Ella Fitzgerald, Brook Benton, Earl Hines, Manhattan Transfer, King Curtis, Billie Holiday, Nina Simone, Wilson Pickett and others.
Haywood Henry also released three of his own albums between 1957 and 1983. He died in 1994 at the age of 81. In 1978 he was inducted into the Alabama Jazz Hall of Fame.
June 1, 2020
Ray McGinnis
References:
"Alabama Jazz Hall Of Fame – Inductees – 1978," jazz hall.com.
"Ruth Brown Rock & Roll – Credits," Discogs.com.
"Billie Holiday 1942-1951-1954 – Credits," Discogs.com.
"Big Maybelle The Okeh Sessions – Credits," Discogs.com.
"Ray Charles Genius + Soul = Jazz – Credits," Discogs.com.
"Screamin' Jay Hawkins Voodoo Jive: The Best of Screamin' Jay Hawkins – Credits," Discogs.com.
"Big Joe Turner's Greatest Hits – Credits," Discogs.com.
"Bobby Lewis – "Tossin' And Turnin'" – Credits," Discogs.com.
"LaVern Baker The Complete Singles As & Bs 1949-1962 – Credits," Discogs.com.
"Aretha Franklin Lady Soul – Credits," Discogs.com.
"The Clarinet – History," the-clarinets.net.
John Reeks, "Rock 'n' Roll Clarinets?! The Beatles' Use of Clarinets on Sgt. Pepper's Lonely Hearts Club Band," The Clarinet, June 2018.
The Beatles, "Here Comes The Sun," Wikipedia.org.
"My Life (Billy Joel song)," Wikipedia.org.
Supertramp, "Breakfast In America," Wikipedia.org.
"Sensational Sixty," CKWX 1130 AM, Vancouver, BC, August 17, 1959.
For more song reviews visit the Countdown.