#2: Mean Woman Blues/Gotta Lotta Livin' To Do/Party by Elvis Presley
B-side: "Mean Woman Blues"
Peak Month: July-August-September 1957
Peak Position #1
12 weeks on Vancouver's Red Robinson Teen Canteen Survey
Peak Position on Billboard Pop Singles chart ~ did not chart
YouTube.com: "Mean Woman Blues"
Lyrics: "Mean Woman Blues"
B-side: "Gotta Lotta Livin' To Do"
Peak Month: August-September 1957
Peak Position #4
6 weeks on Vancouver's Red Robinson Teen Canteen Survey
Peak Position on Billboard Pop Singles chart ~ did not chart
YouTube.com: "Gotta Lotta Livin' To Do"
Lyrics: "Gotta Lotta Livin' To Do"
B-side: "Party"
Peak Month: July 1957
Peak Position: #5
4 weeks on Vancouver's Red Robinson Teen Canteen Survey
Peak Position on Billboard Pop Singles chart ~ did not chart
YouTube.com: "Party"
Lyrics: "Party"
Elvis Aaron Presley was born on in a two-room house in Tupelo, Mississippi, on January 8, 1935. His twin brother, Jessie Garon Presley, was stillborn. When he was eleven years old his parents bought him a guitar at the Tupelo Hardware Store. As a result Elvis grew up as an only child. He and his parents, Vernon and Gladys, moved to Memphis, Tennessee, in 1948. The young Presley graduated from high school in 1953. That year he stopped by the Memphis Recording Service to record two songs, including "That's When Your Heartaches Begin". Elvis' musical influences were the pop and country music of the time, the gospel music he heard in church and at the all-night gospel sings he frequently attended, and the black R&B he absorbed on historic Beale Street as a Memphis teenager. In 1954, Elvis began his singing career recording "That's All Right" and "Blue Moon Of Kentucky" at Sun Records in Memphis.
In late 1955, his recording contract was sold to RCA Victor. In 1956 he had his first #1 record titled "Heartbreak Hotel." He had a sound and style that uniquely combined his diverse musical influences and blurred and challenged the social and racial barriers of the time. Bill Haley & His Comets ushered in the rock 'n roll into mainstream culture in 1955 when "Rock Around The Clock," appeared in Blackboard Jungle – a film about juvenile delinquents and anti-social behavior in an inter-racial school. The song became an anthem for teenage rebellion.
However, it was Elvis in 1956 who ensured rock 'n roll was here to stay with his swiveling hips and R&B infused songs with sexually suggestive lyrics. He had his first number one hit with "Heartbreak Hotel" in February 1956. He starred in 33 successful films, made history with his television appearances and specials, and knew great acclaim through his many, often record-breaking, live concert performances on tour and in Las Vegas. Globally, Elvis Presley has sold over one billion records, more than any other recording artist.
In 1956 Elvis Presley continued his chart-topping ways in Vancouver (BC) with "I Want You, I Need You, I Love You", "Hound Dog", "Don't Be Cruel", "Love Me Tender", "Paralyzed" and "When My Blue Moon Turns To Gold Again". Elvis' eighth number-one hit on the Vancouver pop chart in 1956 was "Poor Boy".
Elvis started off 1957 topping the Vancouver pop charts with "Too Much", "Playing For Keeps", "All Shook Up", "(Let Me Be Your) Teddy Bear", "Jailhouse Rock" and "(You're So Square) Baby I Don't Care". One of Elvis' biggest chart-toppers in Vancouver in 1957 was "Mean Woman Blues".
After the success of Love Me Tender at the box office, Elvis starred in his second film Loving You. It was filmed starting in early 1957. The plot concerned a delivery man named Deke Rivers who is discovered by a music publicist and a country–western musician who want to promote the talented amateur. The film was based on the short story "A Call from Mitch Miller".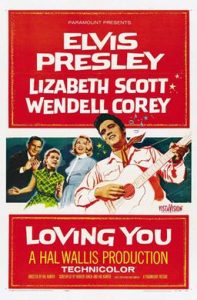 Loving You was released on July 9, 1957. Down Beat magazine said of Presley's performance in Loving You, that it was "an overpowering, if touchingly naive, celluloid sexuality…. For all his high-voltage on-stage erotica … he plays the sullen country boy convincingly … evincing all the emotion of a well bred head of livestock."
The big number-one hit from Loving You across the USA and Canada was "(Let Me Be Your) Teddy Bear". But, four more songs from the soundtrack were hit records in Vancouver in 1957. The first of these, "Loving You", charted to #2 in Vancouver in June '57 on Red Robinson's Teen Canteen Survey. An EP was released that summer with "Mean Woman Blues", "Gotta Lotta Livin' To Do" and "Party".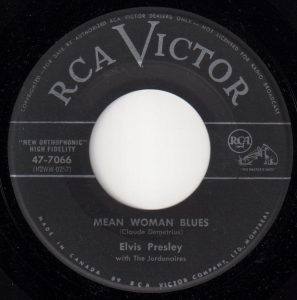 "Mean Woman Blues" was written by Claude Demetrius. Born in 1913 in Bath, Maine, Demetrius was an African-American songwriter. In 1945-46 Louis Jordan and His Tympany Five recorded several songs written by Claude Demetrius titled "Mop Mop", "I Like 'Em Fat Like That", "Ain't That Just Like A Woman" and "Sure Had A Wonderful Time". In 1946, Demetrius wrote "Voodoo Woman Blues" which was recorded by Jay McShann and his Sextette. In 1947, Louis Armstrong recorded a song Demetrius wrote titled "Please Stop Playing Those Blues Boy", while Pearl Bailey recorded "Get It Off Your Mind". In 1950, Ella Fitzgerald recorded Demetrius' song "I'm Waiting For The Junkman".
In 1956, Claude Demetrius wrote the B-side: "I Was The One" to Elvis Presley's breakout number-one seller "Heartbreak Hotel". In 1957, for Elvis' Christmas Album, Presley recorded "Santa Bring My Baby Back To Me" by Demetrius. And in 1958, Elvis recorded another of Demetrius' songs titled "Hard Headed Woman". Among the other recording acts to record a song by Claude Demetrius are June Valli, the Five Keys, Faye Adams, Gloria Mann, Guy Mitchell, Johnnie Ray and Dinah Washington. Both Jerry Lee Lewis and Roy Orbison covered "Mean Woman Blues". The Orbison recording peaked at #5 on the Billboard Hot 100 in 1963. Claude Demetrius died in New York City in 1988 at the age of 71.
"Mean Woman Blues" is a song about a woman who is "mean." How mean?: 1) "A black cat up and died of fright, 'Cause she crossed his path last night." 2) "She kiss so hard she bruise my lips." 3) "The strangest gal I ever had. Never happy 'less she's mad." And more. She never smiles when she makes love. But it drives this guy wild.
"Mean Woman Blues" peaked at #1 in Vancouver (BC) for ten weeks, and also topped the pop charts in Worcester (MA). It climbed to #2 in Akron (OH), #4 in San Francisco, #6 in La Crosse (WI), #8 in Houston, #10 in Ottawa (ON) and Baltimore (MD), and #11 in Hull (Quebec).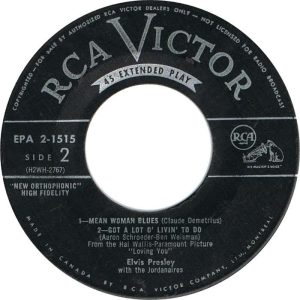 "Gotta Lotta Livin' To Do" was written by Ben Wiseman and Aaron Schroeder. Born in 1921, Ben Wiseman was raised in Providence, Rhode Island. He was penning songs for recording artists from the late 40s. These included Sons of the Pioneers, Dinah Shore, Guy Mitchell, Doris Day, Patti Page, Mitch Miller, the Four Aces, Frankie Laine, Roy Hamilton, Nat "King" Cole, Siw Malmkvist, Dean Martin, Jackie Gleason, Mitchell Torok, Rusty Draper, Don Cherry, Danny Valentino, Crash Craddock, Johnny Burnette and others. He wrote 57 songs for Elvis Presley on his own, or collaborating with others. His first song recorded by Elvis was "Got A Lot O' Living To Do". Wiseman also wrote "Frankie And Johnny", "Follow That Dream" and "Fame And Fortune". He also wrote "The Night Has A Thousand Eyes" for Bobby Vee in 1963, and Dusty Springfield's "All I See Is You" in 1965. Wiseman died in 2007 at the age of 85.
Aaron Schroeder was born in Brooklyn in 1926. He wrote "At a Sidewalk Penny Arcade" for Rosemary Clooney in 1948. Schroeder wrote 17 hit songs for Elvis Presley including five that topped the charts: "A Big Hunk o' Love", "Good Luck Charm", "I Got Stung", "It's Now Or Never" and "Stuck On You". He also wrote songs recorded by Chaka Khan, Roy Orbison, Frankie Lymon & The Teenagers, Nat "King" Cole, Perry Como, Guy Mitchell, The Playmates, Barry White, Tony Bennett, Dionne Warwick, Pat Boone, "Bandit Of My Dreams" for Eddie Hodges, "I'm Gonna Knock On Your Door" for the Isley Brothers in 1959 which was successfully covered by Eddie Hodges, "First Name Initial" for Annette, "Cincinnati Fireball" for Johnny Burnette, "Rubber Ball"" for Bobby Vee, "Because They're Young" for Duane Eddy, the Staple Singers and Paul McCartney. Schroeder also wrote "French Foreign Legion" for Frank Sinatra. Schroeder also produced numerous hits for Gene Pitney that included "I Wanna Love My Life Away", "Town Without Pity", "(The Man Who Shot) Liberty Valance", "Only Love Can Break A Heart" and "24 Hours From Tulsa". Aaron Schroeder later became an international music representative for Hanna-Barbera Productions and provided music, singers and songs for "The Banana Splits" and "Scooby Doo, Where Are You!" Aaron Schroeder had a cameo appearance as a songwriter in the 1957 rock 'n roll film Jamboree, and once appeared on the TV panel show To Tell The Truth.
In "Gotta Lotta Livin' To Do" the boyfriend wants his girlfriend to make out under the moon, or under the trees while there is a balmy breeze. But, he complains that she keeps him waiting. He asks: "Why do you keep me waiting? Why don't you start co-operating?"
"Gotta Lotta Livin' To Do" peaked at #4 in Vancouver (BC) and #7 in Worcester (MA).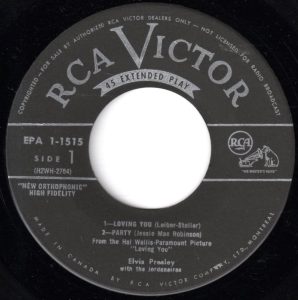 Another side on he EP was "Party". This song was written by Jessie Mae Robinson (nee Booker), born in southeastern Texas in 1918. As a teenager, she wrote a column for the California Eagle newspaper. She earned an Actor's Equity card, performing in WPA musicals like Show Boat. Robinson began writing songs at the age of 22 in 1940. Her first significant song was in 1945 when Dinah Washington recorded "Mellow Mama Blues".
A self-taught musician, Jessie Mae Robinson wrote songs even when she had no access to an instrument. She'd hum melodies into a tape recorder, and scribble lyrics on random pieces of paper. She didn't learn to drive until age 30, so early in her career, she'd take a bus to Hollywood, and have her songs transcribed onto sheet music that the studio musicians could read.
In 1947 her songs "Luxury Tax Blues", "Railroad Porter Blues" and "Old Maid Boogie" were recorded by Eddie Vinson and his Orchestra. The last of these climbed to #1 on the R&B chart. In 1949 Amos Milburn had R&B hits written by Robinson: "In The Middle Of The Night" (#3 R&B) and "Roomin' House Boogie" (#1 R&B). Also that year Rudy Render had a #2 R&B hit with Jessie Mae Robinson's "Sneakin' Around". In 1950, Robinson penned a number-one R&B hit for Little Esther titled "Double Crossing Blues". She also penned a #1 hit titled "Blue Light Boogie" for Louis Jordan, the #8 song of the year on the 1950 Billboard R&B chart.
Jessie Mae Robinson's biggest R&B songwriting success was in 1951 with Charles Brown's recording of "Black Night". The song topped the R&B chart for 14 weeks. Later that year Charles Brown took "Seven Long Years" by Jessie Mae Robinson to #2 on the R&B chart. She also penned a #5 R&B for Amos Milburn that year titled "Tears Tears Tears", and #3 hit for Joe Morris titled "Don't Take Your Love Away From Me". Another Top Ten hit Jessie Mae Robinson penned in 1951 was "Once There Lived A Fool" for Jimmy Grissom.
In 1952 Jo Stafford took Robinson's "Keep It A Secret" to #4 in 1952. That year Patti Page had a #1 pop hit with Robinson's song "I Went To Your Wedding". It was Jessie Mae Robinson's biggest songwriting hit of her career. Jessie Mae Robinson also penned songs recorded by Dinah Shore, Rosemary Clooney ("When I See You"), Judy Garland ("Without A Memory"), jazz singer Rose "the chee chee girl" Murphy, Juanita Hall and the Four Tunes, Erskine Hawkins, Anita O'Day ("Once There Lived A Fool"), Johnny Mathis ("I Look At You"), Nina Simone "(The Other Woman") and many others. In 1966, Jessie Mae Robinson died at the age of 48 after a short illness.
"Let's Have A Party" is a song about having a party. Early on the lyrics involve some planning: "Let's send him to the store, let's buy some more. Let's have a party tonight." As the party starts, the narrator of the song may not have much history smooching, but they sure can dance: "I never kissed a bear. I never kissed a goon. But I can shake a chicken in the middle of the room."
"Party" peaked at #2 in Albany (NY), and Troy (NY), #5 in Vancouver (BC), #6 in Worcester (MA), and #9 in La Crosse (WI).
During this chart-topping streak, one of Presley's Top Ten hits in Vancouver was "(There'll Be) Peace In The Valley". Another was "Treat Me Nice". His second film, Loving You, was released in 1957. Though it was not featured the film, the song "Have I Told You Lately That I Love You?" made it onto the Loving You Soundtrack album.
Elvis kept on topping the charts into 1958 with "I Beg Of You", "Don't", "Wear Your Ring Around My Neck", "Hard Headed Woman", "I Got Stung" and "One Night". In the midst of this chart run came the release of the film King Creole. The theme song, "King Creole", charted on the Vancouver pop charts.
But during his chart-topping ways, he got a letter from Uncle Sam. Sergeant Elvis Presley served with the U.S. Army from March 24, 1958, to March 2, 1960. Meanwhile, Presley managed to climb to the top of the charts once in 1959 with "Big Hunk o' Love".
His return to civilian life saw a return to a string of successful single, album and film releases. In April 1960 Elvis topped the Billboard Hot 100 with "Stuck On You. The B-side of the single was "Fame And Fortune", which also charted in Vancouver.
His followup, "It's Now Or Never", also topped the pop charts in August 1960, including in Vancouver. The B-side, "A Mess Of Blues", also charted on CKWX as a double-sided number-one hit.
In November 1960, Elvis was back at number-one with "Are You Lonesome Tonight?". His chart-topping ways continued in March 1961 with "Surrender". The album from his first film on return from serving in Germany, G.I. Blues, was a best-seller at the box office (#2 on Variety Magazine for the year 1960) and a number one album in October 1960. He released His Hand In Mine, a collection of sacred gospel music and in November, 1960, began to record his 6th studio album, Something For Everybody. It went on to become his 13th hit album.
In September 1961, in Vancouver Presley topped the charts with "Marie's The Name (His Latest Flame)" and "Little Sister". Late in the fall the King of Rock n' Roll had another Top Ten hit titled "Can't Help Falling In Love". The song was from the soundtrack from the film Blue Hawaii. The title track charted on the record surveys on Top40 radio in Vancouver in the winter of 1961.
In 1962 Presley released his seventh studio album, Potluck. From that album the song "Kiss Me Quick" would peak at #34 on the Billboard Hot 100 in 1964. But his song, "Suspicion", climbed onto the CFUN chart in the summer of 1962. Also in 1962 Elvis was filming a number of movies. The first to be released in the summer of '62 was Kid Galahad, which included the song "King Of The Whole Wide World". Presley also enjoyed hit singles with "Good Luck Charm" and "She's Not You".
His next film, Girls! Girls! Girls!, was released in late October. However, the debut single from the soundtrack, "Return To Sender", was released in September prior to the film appearing in theaters. In Vancouver (BC) the title track from the film, "Girls! Girls! Girls!" also charted on the C-FUNTASTIC FIFTY.
Elvis continued to enjoy more Top Ten hits between 1963 and 1965. His most notable hits were "One Broken Heart For Sale", "(You're The) Devil In Disguise", "Witchcraft", "Bossa Nova Baby", "Such A Night", "Ain't That Loving You Baby", "Crying In The Chapel" and "Puppet On A String".
After 1965, Elvis found it increasingly challenging to enter the Top 30. Between the end of 1965 and the winter of 1968 Presley released 22 singles and only four of these made the Billboard Hot 100's Top 30. But in 1969, Presley had his best year since 1962 charting three singles into the Top Ten with "In The Ghetto", "Suspicious Minds" and "Don't Cry Daddy". Between 1970 and 1983 Elvis released 36 singles, including eight posthumous singles. Of these, "Burning Love" and "The Wonder Of You" were his most successful and six others made the Top 20 on the Billboard charts.
Over his recording career Elvis Presley earned 14 Grammy Award nominations including for Record of the Year with "A Fool Such As I" (1959) and "Are You Lonesome Tonight" (1960) and won six Hall of Fame Awards. After his comeback tour in 1968 Presley had continued to tour extensively, with 168 concerts in 1973, a pace he kept through the mid-70's. By 1976 he was suffering from multiple ailments: glaucoma, high blood pressure, liver damage, and an enlarged colon, all believed to be related to prescription drug abuse. He died on August 16, 1977, and a funeral was attended by over 80,000 mourners. His legacy continues to live on. There were also numerous sightings of Elvis including around the 40th anniversary of his death in 2017.
In 2022 a film about Presley, as seen through the narrative view of Col. Tom Parker, was released titled Elvis. Presley was played by Austin Butler.
July 19, 2023
Ray McGinnis
References:
graceland.com (Elvis bio)
"Elvis Presley: Rock's First Icon," Rolling Stone, September 22, 1977.
Paul Lichter, The Boy Who Dared to Rock: The Definitive Elvis, (Dolphin Books, 1978).
Elizabeth Nix, "7 Fascinating Facts About Elvis Presley," History.com, July 1, 2014
Wendy Sauer, Elvis Presley: A Complete Reference, (McFarland, 1984).
Gabriella Paiella, "Austin Butler is a hunk of burning love," GQ, May 25, 2022.
"Elvis Solved the 'Escort West' Mystery," Iverson Movie Ranch Blogspot, February 14, 2015.
Bobby Deen, "Pork and Greens Stir-Fry," Pauladeen.com.
"Claude Demetrius," wikiwand.com.
Dave Laing, "Ben Weisman: Hit songwriter to the stars, from Nat King Cole to Elvis," Guardian, May 24, 2007.
Dennis McLellan, "Aaron Schroeder Dies at 83; Prolific Songwriter for Elvis Presley and Others," Los Angeles Times, December 4, 2009.
All Things Considered, "The Women Behind The Songs: Jessie Mae Robinson," NPR, January 31, 2019.
"Teen Canteen Survey," CKWX 1130 AM, Vancouver, BC, July 28, 1957.
"Teen Canteen Survey," CKWX 1130 AM, Vancouver, BC, August 31, 1957.
"Teen Canteen Survey," CKWX 1130 AM, Vancouver, BC, September 8, 1957.