#656: What's Your Hurry Darlin' by Ironhorse
Peak Month: June 1980
Peak Position #9
12 weeks on Vancouver's CFUN Chart
Peak Position on Billboard Hot 100 ~ #89
YouTube: "What's Your Hurry Darlin'"
Lyrics: "What's Your Hurry Darlin'"
Randolph Charles Bachman was born in 1943 in Winnipeg, Manitoba. When he was just three years old he entered the King of the Saddle singing contest on CKY radio, Manitoba's first radio station that began in 1923. Bachman won the contest. When he turned five years he began to study the violin through the Royal Toronto Conservatory. Though he couldn't read music, he was able to play anything once he heard it. He dropped out of high school and subsequently a business administration program in college. He co-founded a Winnipeg band called The Silvertones with Chad Allan in 1960. In 1962 the band became Chad Allan and the Expressions, and was renamed The Guess Who in 1965 with their first big hit, "Shakin' All Over".
While "American Woman" was #1 in May 1970, Randy Bachman left The Guess Who. He released a solo album called Axe, and formed a band called Brave Belt. This included his brothers Robbie and Tim and Chad Allan. Fred Turner then replaced Chad Allan. By 1973 they were billed as the Bachman-Turner Overdrive. In the mid-70s the BTO would have a half a dozen Top Ten hits in Canada and a #1 internationally with "You Ain't Seen Nothing Yet". Other hits included Talkin' Care of Business", "Roll On Down the Highway", "Blue Collar", "My Wheels Won't Turn" and "Gimme Your Money Please".
In 1977 Bachman went solo and released an album called Survivor in 1978. From the album came the single release "Is The Night Too Cold For Dancin'?"
After his solo release, Bachman went on to form the band Ironhorse in 1979. The other bandmates were backing vocalist and guitarist Tom Sparks, drummer Mike Baird, and bass guitarist John Pierce. They released a single called "Sweet Lui-Louise" which made the Top 40 in the USA and Top 30 in Canada.
By the time Ironhorse went back to the recording studio to work on a second album, the lineup had changed. Replacing John Pierce was Ron Foos, a bass guitarist born in Seattle in 1949 who was recruited from Paul Revere And The Raiders. And replacing Mike Baird was new drummer Chris Leighton. Leighton was from Washington State, and had been a session musician and performer since 1970. In 1975 he was part of the Seattle Seahawks Band (and again in 1994).
A fifth bandmate was added on keyboards and lead vocals named Frank Ludwig. Ludwig had joined Crosstown Bus, a rock band that moved from Nelson to Vancouver (BC) in the late '60s. Crosstown Bus released their only album, High Grass, in 1971. Ludwig left Crosstown Bus to join Toronto-based rock band Brutus in 1975. They had a Top 20 hit that year titled "Ooh Mama, Mama". In 1976, Ludwig left Brutus and was a session musician on the April Wine album The Whole World's Goin' Crazy, released that September. Concurrently, he joined Trooper who released Two For The Show in June '76. The album included guest guitar and vocals on several tracks by Randy Bachman. Ludwig was a member of Trooper for its next three studio albums, which included their hits "We're Here for a Good Time (Not a Long Time)", "Oh, Pretty Lady", "Raise A Little Hell", "Round Round We Go", "The Moment It Takes" and "3 Dressed Up as 9".
In 1979 Ironhorse went on an tour of the East Coast of the USA as an opening act for the Beach Boys. Then Ironhorse released their second album, Everything Is Grey. The single release from the album was titled "What's Your Hurry Darlin'".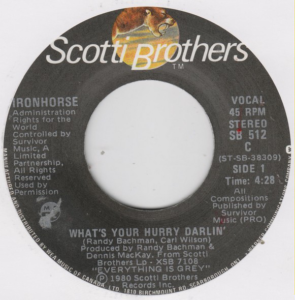 "What's Your Hurry Darlin'" was cowritten by Randy Bachman and Carl Wilson of the Beach Boys. Born in Hawthorne, California, in December 1946, Carl Dean Wilson was the younger brother of Brian and Dennis Wilson. Carl learned to play guitar from the age of twelve, and also studied voice. Carl also studied saxophone. Just around the time he was turning 14, Brian and Wilson cousin Mike Love, coaxed Carl to join them in a performance at the Hawthorne High School billed as Carl and the Passions. In the theatre was Al Jardine, who was impressed by their performance. Jardine, and other Wilson brother, Dennis, would round out what became known in 1961 as the Pendletones. The Pendletones first recording was in October 1961, a doo-wop-surf tune called "Surfin'". It was released in November '61 on the Candix Enterprises Inc. label. The surprise for the group was that the record label had changed the group's name from the Pendletones to the Beach Boys. Consequently, as each time the record was played by a DJ in America, radio listeners were being introduced to the Beach Boys. The name Pendletones was now history.
Carl Wilson was a member of the Beach Boys from 1961 to 1997. His most notable contributions to the band are his lead vocals on "God Only Knows", "Good Vibrations", "Darlin'", "I Can Hear Music" and "Kokomo". He co-wrote "Dance, Dance, Dance", "Don't Worry Baby", and "Good Timin'". Carl Wilson also provided backing vocals for the hit singles by Chicago "Baby What A Big Surprise" and "Wishing You Were Here". Wilson also provided vocals on Elton John's "Don't Let The Sun go Down On Me". As a guitarist, Carl Wilson contributed memorable guitar riffs on "Surfin' U.S.A.", "Fun, Fun, Fun" and others. During the Vietnam War Carl Wilson declared himself to be a conscientious objector, and refused to be drafted when Uncle Sam told him to join the U.S. Army. Carl Wilson had a pet Red Irish Setter named Shannon who died after he was hit by a car, and inspired the 1976 hit "Shannon" by Henry Gross.
"What's Your Hurry Darlin'" is a song that gives some advice to any couple who are having ups and downs in a relationship, as they each change in different ways. Since the feelings they have for each other remain the same, the song advises "take love easy, it'll be all right." The couple are not living together, but they still have dreams of being hand and hand, maybe a future life together. But how they get from the place they are now to some harmonious future, will depend on their capacity to ease into that future together.
"What's Your Hurry Darlin'" peaked at #9 in Vancouver (BC), and #11 in Regina (SK). The single also got some airplay in Phoenix (AZ). A second single from Everything Is Grey titled "Symphony" cracked the Top 30 in Regina (SK) in the fall of 1980.
After Ironhorse broke up in 1980, Randy Bachman formed a band called Union, including Ironhorse bandmates Frank Ludwig, Chris Leighton, and Fred Turner (from Bachman-Turner Overdrive). Bachman subsequently went on reunion tours with The Guess Who in the 1980s and played with them at the Pan-Am Games in Winnipeg in 1999 and, more recently, in 2003. Bachman also toured almost continuously with BTO from 1983 to 1991. He's also released over a half a dozen solo albums between 1992 and 2015.
In 2002, as a member of The Guess Who, Bachman was one of the former bandmates who received The Governor General's Performing Arts Award, a Canadian award noting excellence in the performing arts. Bachman has also received the distinction of being made an Officer of the Order of Canada in 2008.
Since 2005 Randy Bachman has hosted a pop music retrospective show on the CBC called Vinyl Tap. Songs like BTO's "Taking Care of Business" have been referenced in the TV show The Simpsons.
After he left Ironhorse, Frank Ludwig was part of a pop-soft rock band called Body Electric who released a self-titled album in 1984.
Chris Leighton went on to play with Wanda Jackson in concert in Port Townsend, WA, in 2008, and at the Sunbanks Music Festival in Electric City (WA) with the Patti Allen-Kathi McDonald All Star Band in 2009. Leighton was an Adjunct Professor of Music at Shoreline Community College in 2008-2009, and has also taught drumming at both Bellevue Community College and Edmonds Community College. Over the years Chris Leighton has appeared at over forty folk, world, heritage and blues festivals. These include the Vancouver International Folk Festival, the Northwest Folklife Festival in Seattle, and Town Hall in New York City. Leighton has been featured in commercial advertisements for Alaska Airlines, Continental Airlines, Honda, Horizon Air, Ivar's Seafood Bar, Levi's, Nike, Nordstrom, Raineir Brewery, Safeway, Taco Time, Thai Airways, The Bon Marche, Toyota and others.
Over the years Ron Foos – in addition to playing with Paul Revere And The Raiders from 1980 to the present (2020) – has been in the recording studio with The Righteous Brothers' Bill Medley, The Platters, Three Dog nights' Chuck Nygron, Barbara Lewis, Nancy Sinatra, The Beach Boys, Mary Wilson of The Supremes, Mitch Rider, and The Association.
While still touring with the Beach Boys, Carl Wilson released two solo albums in 1981 and 1983. The second, Youngblood, included backing vocals from Burton Cummings. Carl Wilson was diagnosed with lung cancer in 1997 and died in early 1998 at the age of 51.
November 14, 2020
Ray McGinnis
References:
Randy Bachman,Vinyl Tap, CBC, Toronto, Ontario.
"Randy Bachman Bio," Randy Bachman.com.
Johnny Can Rock, Jaimie Vernon, "Crosstown Bus," Canadian Bands.com.
"Chris Leighton Biography," Chris Leighton.com.
"Ron Foos Bio," Paulreveresraiders.com.
John Pareles, "Carl Wilson, A Beach Boys Founder, 51," New York Times, February 9, 1998.
Geoffrey Himes, "Fun, Fun, Fun: Carl Wilson's Life as a Beach Boy," Guitar World.com, 1982.
"CFUN Top 30," CFUN 1410 AM, Vancouver, BC, June 14, 1980.
For more song reviews, visit the Countdown.