#1213: Blue Turns to Grey by Cliff Richard and the Shadows
Peak Month: May 1966
6 weeks on Vancouver's CFUN chart
Peak Position #8
Peak Position on Billboard Hot 100 ~ did not chart
YouTube.com: "Blue Turns To Grey"
Lyrics: "Blue Turns To Grey"
Cliff Richard was born Harry Roger Webb on October 14, 1940, in the city of Lucknow in Uttar Pradesh, India. In 1940 Lucknow was part of the British Raj, as India was not yet an independent country. Webb's father worked on as a catering manager for the Indian Railways. His mother raised Harry and his three sisters. In 1948, when India had become independent, the Webb family took a boat to Essex, England, and began a new chapter. At the age of 16 Harry Webb was given a guitar by his father. Harry then formed a vocal group called the Quintones. Webb was interested in skiffle music, a type of jug band music, popularized by "The King of Skiffle," Scottish singer Lonnie Donegan who had an international hit in 1955 called "Rock Island Line",
In 1958 Webb became the lead singer of a British rock group named the Drifters. It was during this time that Harry Greatorex, who was promoting the band, gave Harry Webb the stage name, "Cliff Richard."As rock and roll made some people think of rocks, Greatorex reasoned that "Cliff" would be a rock solid name for the young 18 year old Harry Webb. Cliff Richard would go on to record nearly 150 singles that made it onto the UK charts. While his popularity in the USA was erratic, he was a big seller in Vancouver. On this survey of 1,410 songs he appears on 22 occasions.
Cliff Richard had his first single on the Vancouver charts peak at number one in the fall of 1959. "Living Doll" became an auspicious beginning for a recording artist that fans in Vancouver were wild about for Richards early string of hits between 1959 and 1966, and again in the late 70s onward.
In the UK Cliff Richard had 26 of his first 28 singles, from 1958 reach the Top Ten, which included a record of 23 Top Ten singles in a row, ending in the middle of 1965. Of these 15 singles were non-album singles.
In March 1961, Cliff Richard had his second number one hit record in Vancouver with "'D' In Love". And in the spring of '61 Richard was back in the Top Ten with "Theme For A Dream". Eleven months later he was back in the Top Ten in Vancouver with "The Young Ones".
And a year later Cliff Richard was roaring up the C-FUNTASTIC FIFTY in early spring 1963 with "Bachelor Boy". From March 1963 to May 1966 Cliff Richard had 15 hit singles in the Top 20 on CFUN. Of these 12 made the Top Ten and three peaked at #1. After "Bachelor Boy", Richard's sixth Top Ten charting song in Vancouver was "Summer Holiday", in May '63. The songs overlapped with "Summer Holiday" entering the Top Ten on the C-FUNTASTIC FIFTY on April 27th at #10, while "Bachelor Boy" peaked at #5 that week. And with "Bachelor Boy", Cliff Richard began charting for 81 of 85 consecutive weeks on the CFUNTASTIC FIFTY between March 9, 1963, and October 17, 1964.
In 1963 Richard won the Best UK Male Singer in the NME (New Musical Express) Reader Poll. In Vancouver, Cliff Richard's follow up hit to "Summer Holiday" was "Lucky Lips" and simultaneously "It'll Be Me". This was a #2 hit in the UK in 1962 and #7 in Vancouver in August '63. While "Lucky Lips" climbed to #1 in Vancouver and #4 in the UK in the summer of '63. Of the next eight singles after "It'll Be Me", seven made the Top Ten in Vancouver. One of these was "The Next Time", and another was "Dancing Shoes".
Cliff Richard had another big hit with a cover of the Tommy Edwards song "It's All In The Game". Another Top Ten hit for the singer in Vancouver was "Don't Talk To Him", which began to chart on CFUN in Vancouver on January 11, 1964. Other hits in Vancouver for Cliff Richard in 1964 were "Constantly [L'Edera]"/"True True Lovin'" and "I'm The Lonely One". The last of Cliff Richard's eight consecutive Top ten hits in Vancouver was in the fall of 1964 with "On The Beach".
Cliff Richard also had a Top Ten hit in Vancouver in 1965 with "Just Another Guy", while the B-side "The Minute You're Gone" stalled at #11.
It would seem with the coming of the British Invasion that Cliff Richard would be discovered by the American record-buying public. However, it was not to be.
But here on the west coast, "Blue Turns To Grey", continued Cliff Richard's string of hits, which appeared on the Vancouver pop charts in the spring of 1966. It would be his last for a decade.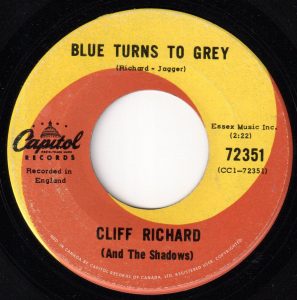 "Blue Turns to Grey" is a song that was written by Mick Jagger and Keith Richards. The song first appeared in February 1965 when Dick and Dee Dee, The Mighty Avengers and Tracey Dey released their own versions. It was released by The Rolling Stones on their 1965 album December's Children (And Everybody's) later that year. It became a hit, peaking at #15 in the UK when remade by Cliff Richard and the Shadows in 1966. Though it failed to chart in the USA, it peaked at #8 in Vancouver. The subject of the song contrasts the initial positive feeling of a man who had broken up with his girlfriend with feeling upset once the impact of the breakup has taken hold. Nonetheless, he has the motivation to try to find her and work things out again: "and you know that you must find her, find her, find her." Nothing like recognizing what you've lost.
"Blue Turns to Grey" was the 19th Top 20 hit in Vancouver for Cliff Richard, between September 1959 and May 1966. It would be ten more years before he returned with another hit on the Vancouver charts called "Devil Woman".
Cliff Richard had a few more hits in the early 1980's with "We Don't Talk Anymore" and "Dreamin'", "A Little In Love" and "Wired For Sound". Richard was among the performers at the Diamond Jubilee concert held outside Buckingham Palace in June 2012. Then, on June 30, 2012, he helped to carry the Olympic torch from Derby to Birmingham as part of the torch relay for the 2012 Summer Olympics in London. Cliff Richard has also been active as a philanthropist. In October 2015, he went on tour at the age of 75.
January 19, 2017
Ray McGinnis
References:
Cliff's Career, Cliff Richard.org.
Heather Saul, "Sir Cliff Richard Profile: A Career Spanning Five Decades," Telegraph, August 14, 2014.
"C-FUNTASTIC FIFTY," CFUN 1410 AM, Vancouver, BC, May 21, 1966.
For more song reviews visit the Countdown.