#5: Living Doll by Cliff Richard/David Hill
Peak Month: October-November 1959
Peak Position #1
20 weeks on Vancouver's CKWX chart
Peak Position on Billboard Hot 100 ~ #30 (Cliff Richard)/ did not chart (David Hill)
YouTube.com: "Living Doll" ~ Cliff Richard
YouTube.com: "Living Doll" ~ David Hill
Lyrics: "Living Doll"
Cliff Richard was born Harry Roger Webb on October 14, 1940, in the city of Lucknow in Uttar Pradesh, India. In 1940 Lucknow was part of the British Raj, as India was not yet an independent country. Webb's father worked on as a catering manager for the Indian Railways. His mother raised Harry and his three sisters. In 1948, when India had become independent, the Webb family took a boat to Essex, England, and began a new chapter. At the age of 16 Harry Webb was given a guitar by his father. Harry then formed a vocal group called the Quintones. Webb was interested in skiffle music, a type of jug band music, popularized by "The King of Skiffle," Scottish singer Lonnie Donegan who had an international hit in 1955 called "Rock Island Line".
In 1958 Webb became the lead singer of a British rock group named the Drifters. It was during this time that Harry Greatorex, who was promoting the band, gave Harry Webb the stage name, "Cliff Richard."As rock and roll made some people think of rocks, Greatorex reasoned that "Cliff" would be a rock solid name for the young 18 year old Harry Webb. Cliff Richard would go on to record nearly 150 singles that made it onto the UK charts. While his popularity in the USA was erratic, he was a big seller in Vancouver. On this survey of 1,410 songs he appears on 22 occasions.
Bruce Welch was born in 1941 in Bognor Regis, a seaside resort 55 miles southwest of London. He formed The Railroaders while he was still fourteen (before he turned 15 on November 2, 1956). His friend, Hank Marvin was one of the other three bandmates in The Drifters. Another member of The Drifters was Terrance "Jet" Harris, who was born in North West London in 1939. It was Harris who suggested to Cliff Richard that the band change their name to The Shadows in order to avoid confusion with the American R&B group, The Drifters, who were had a string of hit records beginning with "Money Honey" in 1953 and most recently with "There Goes My Baby" in 1959.
Cliff Richard had his first single on the Vancouver charts peak at number one in the fall of 1959. It was titled "Living Doll".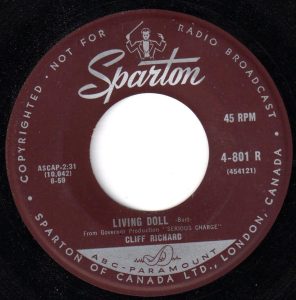 "Living Doll" was written by Lionel Bart. Born Lionel Begleiter in 1930 in London, his family had escaped Ukranian pogroms against the Jews by moving to England. He was in amateur theatre from the early 50s, and appeared with a comedy troupe in the In 1956, Bart wrote a Top 20 UK hit for Tommy Steele titled "Rock with the Caveman". In 1957, Bart wrote a #8 hit in the UK for Tommy Steels titled "Butterfingers". In 1958 Bart shared an Ivor Novello Award for Most Outstanding Song of the Year, Musically and Lyrically. The award was in recognition of the song recorded by Tommy Steele titled "A Handful Of Songs". Also in 1958, Bart won another Ivor Novello Award for The Year's Outstanding Novelty Song: "Three Brothers". A third Ivor Novello Award was given to Lionel Bart for the 1957 musical film The Tommy Steele Story. In late 1959, Bart penned "Little White Bull", a number six hit in the UK for Tommy Steele. And in April 1960, Bart's "Do You Mind" became a number-one hit for Anthony Newley in the UK. And in 1961, Adam Faith recorded "Easy Goin' Me" and charted Bart's composition to #12 on the UK pop singles chart.
In 1960, Lionel Bart received an Ivor Novello Award for Outstanding Personal Services to British Popular Music. In addition, he won another Ivor Novello Award for composing "Living Doll" which was The Best Selling and Most Performed Song of the Year. And a third Ivor Novello Award was given to Bart in 1960 for Lock Up Your Daughters. (The Year's Outstanding Contribution to the Score of a Stage Play, Film, TV Programme or Radio Production). And a fourth Ivor Novello Award was given to Lionel Bart in the category of The Year's Outstanding Novelty Item. This was for "Little White Bull". In 1960 Lionel Bart won three Ivor Novello Awards in recognition of his musical Oliver! "As Long As He Needs Me" was recorded by Shirley Bassey and won Bart awards in the categories The Best Selling and Most Performed Song of the Year and Most Outstanding Song of the Year, Musically and Lyrically. While Oliver! won Lionel Bart another Ivor Novello Award for The Year's Outstanding Contribution to the Score of a Stage Play, Film, TV Programme or Radio Production. In 1963, Lionel Bart wrote the theme song for the James Bond film From Russia with Love.
Bart's musical Oliver! became a huge box office success in 1968-69 and won six Academy Awards in 1959, as well as six other nominations. It was nominated for eight British Academy Film Awards, but didn't win any awards. Lionel Bart suffered from depression and alcoholism and died at the age of 68 of liver cancer in 1999. He came out as gay in the last years of his life.
"Living Doll" is a song about a guy who has a gal who is a knockout. Her hair is so perfect, he sings "take a look at her hair, it's real!" As well, he's concerned she's going to be stolen from her. His solution: "I'm gonna lock her up in a trunk, so no big hunk can steal her away from me." Of course, it seems he hasn't asked his bombshell girlfriend how she'd like to locked up in a trunk. In that way, the "living doll" in the song is handled like a Barbie who you can put back in her case or trunk.
On March 9, 1959, Mattel launched their Barbie doll onto the toy market. This became Barbie's official birthday. Her real name, lost to decades of "Barbie" for short marketing ads, was Barbara Millicent Roberts.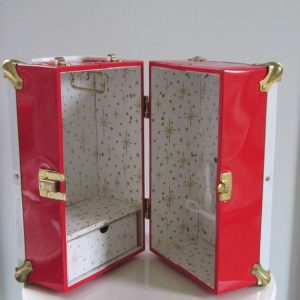 Barbie doll trunk (1959)
The first Barbie doll wore a black-and-white zebra striped swimsuit and signature topknot ponytail, and was available as either a blonde or brunette. The doll was marketed as a "Teen-age Fashion Model", with her clothes created by Mattel fashion designer Charlotte Johnson. The first Barbie dolls were manufactured in Japan, with their clothes hand-stitched by Japanese homeworkers. Around 350,000 Barbie dolls were sold during the first year of production.
Lionel Bart may have gotten the idea for the song title "Living Doll" based on Mattel's advertising campaign for Barbie. In the Mattel ads, they exclaimed "Barbie Teen-age Fashion Doll! Barbie is a living doll, a real grown-up fashion model. She's a curvy 11 1/2 inches with flesh-toned 'skin' – and she stands alone. Her arms, legs, and head move, so you can dress her with real fashion costumes and accessories – like those shown below."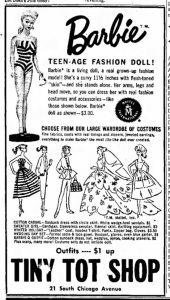 Mattel magazine ad (October 1959)
In the midst of Mattel's Barbie doll craze, Lionel Bart's "Living Doll" gave older boys and men a nudge to see their girlfriends much like Mattel was pitching Barbie dolls to girls in the children's toy market. The first Mattel TV ad for Barbie appeared in 1959 on the ABC TV show The Mickey Mouse Club. A female voice sang "Barbie you're beautiful. You make me feel my Barbie Doll is really real. Someday I'm gonna be exactly like you, 'til then I'll know just what I'll do. Barbie, beautiful Barbie, I'll make believe that I am you."
"Living Doll" peaked at #1 in Vancouver (BC), Ottawa (ON), and Green Bay (WI), #2 in Waterloo (IA), #3 in Baton Rouge (LA), Williston (ND) and St. Louis (MO), #5 in Battle Creek (MI) and Denver, #8 in Milwaukee (WI), #10 in Chicago and Wichita (KS), #11 in Montreal, and #13 in Buffalo. Internationally, "Living Doll" peaked at #1 in Ireland, Norway, Sweden and the United Kingdom, #2 in the Netherlands, #9 in Australia, #10 in Spain, #11 in Finland, #16 in Belgium and #19 in West Germany.
In 1997 the Norwegian pop group Aqua had an international Top Ten hit with "Barbie Girl". Music reviewer with Billboard, Larry Frick, wrote "Why didn't someone think of this sooner? Leave it to a European act to cook up such a deliciously over-the-top sendup of America's most beloved doll. With her squeaky, high-pitched delivery, Lene Grawford Nystrøm fronts this giddy pop/dance ditty as if she were Barbie, gleefully verbalizing many of the twisted things people secretly do with the doll." He noted that "at the same time, she effectively rants about the inherent misogyny of Barbie with a subversive hand", adding that René Dif is an "equally playful and biting presence, as he embodies male counterpart Ken with an amusing leer. Wisely, MCA is sticking this hit-bound single with a message that is 'a social comment and not created or approved by the makers of the doll.'" Indeed, Nystrøm sang "l'm a Barbie Girl, In the Barbie world, Life in plastic, it's fantastic. You can brush my hair, undress me everywhere…." Aqua's "Barbie Girl" climbed to number-one is Australia, Belgium, France, Germany, Ireland, the Netherlands, New Zealand, Norway, Scotland, Sweden, Switzerland and the UK. It also landed in the Top 5 singles in another ten nations.
As it happens, the new Barbie movie will be released in North America and the UK on July 21, 2023. The plot: After being expelled from the utopian Barbie Land for being less-than-perfect dolls, Barbie and Ken go on a journey of self-discovery to the real world.
In March 1961, Cliff Richard had his second number one hit record in Vancouver with "'D' In Love". And in the spring of '61 Richard was back in the Top Ten with "Theme For A Dream". Eleven months later he was back in the Top Ten in Vancouver with "The Young Ones".
And a year later Cliff Richard was roaring up the C-FUNTASTIC FIFTY in early spring 1963 with "Bachelor Boy". From March 1963 to May 1966 Cliff Richard had 15 hit singles in the Top 20 on CFUN. Of these 12 made the Top Ten and three peaked at #1. After "Bachelor Boy", Richard's sixth Top Ten charting song in Vancouver was "Summer Holiday", in May '63. The songs overlapped with "Summer Holiday" entering the Top Ten on the C-FUNTASTIC FIFTY on April 27th at #10, while "Bachelor Boy" peaked at #5 that week. And with "Bachelor Boy", Cliff Richard began charting for 81 of 85 consecutive weeks on the CFUNTASTIC FIFTY between March 9, 1963, and October 17, 1964.
In 1963 Richard won the Best UK Male Singer in the NME (New Musical Express) Reader Poll. In Vancouver, Cliff Richard's follow up hit to "Summer Holiday" was "Lucky Lips". Other Top Ten hits for Cliff Richard in the 1960s in Vancouver include "It'll Be Me", "The Next Time", "Dancing Shoes", "It's All In The Game", "Don't Talk To Him", "Constantly [L'Edera]"/"True True Lovin'", "On The Beach", "Just Another Guy" and in 1966 a cover of a Rolling Stones song titled "Blue Turns To Grey".
He remained almost completely off the radar in the USA until his Top Ten hit in 1976 on the Billboard Hot 100 called "Devil Woman." He scored again in 1979 with "We Don't Talk Anymore". That same year he had a #4 hit in the UK, Ireland, New Zealand and South Africa with "Carrie". And in 1980, Cliff Richard and Olivia Newton-John recorded "Suddenly", a Top Ten hit in Ireland. At the end of the year Cliff Richard charted "Dreamin'". Richard's next single was "A Little In Love". In the fall of 1981 Cliff Richard had a Top Ten hit in Vancouver titled "Wired For Sound".
In 1986, Cliff Richard released a new recording of his 1959 hit "Living Doll". It became a number-one hit this time in Australia, Belgium, Ireland, the Netherlands, New Zealand, and the UK. As well, it made the Top Ten in Switzerland and Norway. And in 1986, Richard recorded a duet with Sarah Brightman titled "All I Ask of You". It was a chart-topper in Ireland and South Africa, and a #3 hit in the UK.
Cliff Richard was among the performers at the Diamond Jubilee concert held outside Buckingham Palace in June 2012. Then, on June 30, 2012, he helped to carry the Olympic torch from Derby to Birmingham as part of the torch relay for the 2012 Summer Olympics in London. Cliff Richard has also been active as a philanthropist. In October 2015 he went on tour at the age of 75. Over the course of his recording career, Cliff Richard has had 68 singles reach the Top Ten on the UK singles chart between 1958 and 2008. In late June and early July, 2019, Cliff Richard celebrated his 60th year as a recording artist with his Diamond Encore Tour.
Cliff Richard was not the only recording artist to record "Living Doll". In 1959, another singer looking for a breakthrough record was David Hill.
David Alexander Hess was born in New York City in 1936. He told a reporter decades later, "Started out writing at an early age and was discovered by Perry Como, who sent me to his lawyer, who, in turn, sent me to Al Nevins of 'The Three Sons'. After that it was just a matter of being in the right place at the right time. I carried my guitar with me, so I was always ready to play at a moments notice."
In 1956, under the stage name David Hill, he recorded the original recording of "All Shook Up". The song was successfully covered by Elvis Presley in 1957, topping the Billboard pop charts for nine weeks. In a 2009 interview, Hess explained "As far as 'All Shook Up', the title came from a real set of circumstances and when I decided not to write it, Otis Blackwell did and I had the first recording for Aladdin Records. It was my title, but Otis wrote the song and Presley took a writing credit in order to get him to record it. That's the way things happened in those days." Hill's original recording of "All Shook Up" had each line the the verses climbing the scale. While Elvis Presley's cover kept the notation in a tighter range.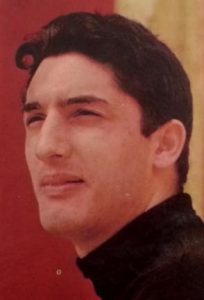 David Hill
In the summer of 1957, David Hill had a Top Ten hit in Buffalo titled "By My Side". Hess wrote a #9 pop hit in 1957 for Sal Mineo titled "Start Movin'", credited to David Hill. Other songs he wrote were recorded by Screamin' Jay Hawkins, Gogi Grant, Ferlin Husky, the Crew Cuts, the Poni-Tails, the Ames Brothers, the Playmates, the Everly Brothers, the Clovers, Andy Williams, Della Reese, Marty Wilde, Jerry Keller, Conway Twitty, Jerry Wallace, the Staple Singers, Lorne Greene and others.
In March 1958, David Hill charted "Wild Child" to number-ten on Red Robinson's Teen Canteen Survey. The B-side, "Big Guitar", was a #6 hit on WAMP in Pittsburgh. In the fall of 1958, credited to David Hill, Hess wrote "I Got Stung" for Elvis Presley. The single shot into the Top Ten on the Billboard Hot 100. His single "Two Brothers" was a Top Ten hit in Burlington (VT) and Potsdam (NY) in May 1959. The single also cracked the Top 20 in Sydney, Australia. In 1959, Hill had a Top 40 French-language/English-language single in Montreal titled "Voolay Voolay Song".
In 1959, Hill recorded "Living Doll".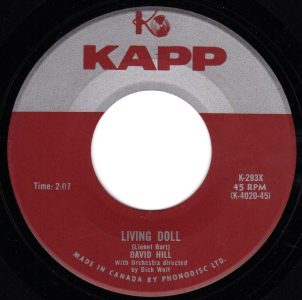 "Living Doll" by David Hill charted to #1 in Vancouver, #6 in Arlington (VA), #9 in Buffalo, #10 in Washington D.C., and #17 in Seattle.
In 1961, Hill wrote "Speedy Gonzales" which charted to #6 in Washington D.C. and #9 in Rockville (MD) in April 1961. But the cover of the song by Pat Boone was an international Top Ten hit in 1962. Boone's cover topped the pop charts in Argentina, Belgium, the Netherlands, Norway, Sweden and West Germany. Boone's "Speedy Gonzales" climbed to #2 in the UK, #3 in Australia, #4 in Ireland, #6 on the Billboard Hot 100 in the USA, and #8 in France. All those record sales by Pat Boone earned David Hill a lot of royalties.
Hess played Krug Stilo, an unrepentant serial killer and leader of a gang in Wes Craven's classic 1972 slasher film Last House on the Left. Ten years later Hess played the villain in Craven's Swamp Thing. He died in 2011 at the age of 75 of a heart attack.
References:
"Cliff's Career," Cliff Richard.org.
"Cliff Richard UK Singles chart discography," official charts.com.
Tim Taj, "David Hess: Elvis Presley sang my songs, I got paid off, and the rest is history," BZ Film, November 20, 2009.
Jim Welte, "Actor and Songwriter David Hess Dies at 75," Patch.com, October 13, 2011.
Dennis Barker, "Lionel Bart obituary: Fings ain't wot they used t'be," Guardian, April 5, 1999.
"Barbie," First Versions.com, December 2014.
Mattel Inc., "Barbie" TV ad, ABC, 1959.
Larry Frick, "New and Noteworthy," Billboard, August 16, 1997, page 62.
Rebecca Rubin, "Greta Gerwig, Margo Robbie and Ryan Gosling bring Plastic, Fantastic 'Barbie' to Cinemacon," Variety, April 23, 2023.
"Sensational Sixty," CKWX 1130 AM, Vancouver, BC, November 2, 1959.
For more song reviews visit the Countdown.