#306: I Could Be So Good To You by Don and the Goodtimes
Peak Month: May 1967
11 weeks on CFUN's Vancouver Charts
Peak Position ~ #2
Peak Position on Billboard Hot 100 ~ #56
YouTube: "I Could Be So Good To You"
Lyrics: "I Could Be So Good To You"
Ron "Buzz" Overman was born in 1946 and was in a rock band from Walla Walla titled the Gems starting in 1960. In 1964 he joined a garage band in Walla Walla named Hawk and the Randelas. His Don And The Goodtimes bandmates knew Overman as a huge fan of Star Trek, as well as corn on the cob and watermelon. Joey Newman was born in 1947 in Seattle, and became a guitarist with Don And The Goodtimes. His guitar playing was credited on their 1967 studio album, So Good, with contributing to a "get-up-and-go quality" to the bands' music. Before he was with the band he was known as a good pool player and winner of numbers of go-cart racing trophies. L'il Don Gallucci was born in 1947 in Portland, Oregon, and was a child prodigy. He was a member of the Kingsmen and was playing organ and keyboards on their 1963 hit "Louie Louie". While he was with the Don And The Goodtimes, Gallucci was the bands' musical arranger, known to lift weights "to keep muscles on his slender frame," and in 1967 was expected to "set an Olympic Record for dating."
Jeff Hawks was raised in Alameda, California, and was born in 1947. In addition to playing the tambourine, he was known by his bandmates for devouring steaks, and "digging" football. He was in Hawk And the Randelas from 1964-66, and then joined Liberty Tree. Bobby Holden was raised in Portland, Oregon, and born in 1947. On the 1967 studio album So Good liner notes for Don And The Goodtimes, it was reported that Holden hoped one day to own a cattle ranch.
Don And The Goodtimes formed in 1964 due to Don Gallucci being only 15-years-old. This meant Gallucci was a minor, judged too young by his parents to go on tour with the Kingsmen. They wanted their son to finish high school. So Gallucci formed his own band with Bobby Holden, a drummer he started jamming with at a nightclub called the Chase. Members from Holden's former band, the Invaders, joined the project, including bass guitarist Dave Child and saxophonist and vocalist Don McKinney. As well, ex-Kingsmen vocalist Jack Ely briefly joined Don And The Goodtimes – only in 1964; And lead guitarist, Pierre Ouellette, a former bandmate with Paul Revere and the Raiders, made up the original line-up for Don and the Goodtimes. In 1965 Ouelette left and was replaced by Jim Valley (who left the Viceroys).
Bob Holden recalls how the bands' name originated. "It was actually from a girl in my social studies class who was just a livewire! I told her I'm starting this band and we're looking for a name. She said, 'You guys are the Good Times.' I went to Gallucci and he said, 'That's great.'"
In 1964 Don And The Goodtimes had a Top 30 hit in Vancouver (WA) with an instrumental titled "Turn On". Subsequently, they released a cover of the blues-R&B classic from 1959 by Big Jay McNeely titled "There Is Something On Your Mind".
In 1965 Don And The Goodtimes had a Top Ten hit in Seattle with "Little Sally Tease". It was written by Jim Valley. In early 1966 the band had a Top 20 hit in Vancouver (BC) with a cover of the 1961 Drifters' hit "Sweets For My Sweet". Later that spring they did a cover of the Rolling Stones' "Blue Turns To Grey". However, the single didn't take off. McKinley and Child left the band and were replaced by "Buzz" Overman and Jeff Hawks. In September '66 the release of "You Were A Child", written by Overman, kept them on the airwaves in Seattle and Vancouver (WA) for a couple of months.
In 1966, Don And The Goodtimes made television appearances on the Lloyd Thaxton Show and Hollywood a-Go-Go. Soon after, they got a contract to appear weekly [for $1,200 a week] on Dick Clark's show Where the Action Is. That year Don And The Goodtimes released an album titled Where the Action Is. It featured covers of the Kingsmen's "Jolly Green Giant", Tommy Tucker's "Hi-Heel Sneakers", and a respectable version of the Sonics "The Witch". As well in 1966, an album was released titled Harpo, credited to Jim Valley with Don And The Goodtimes. It included a recording of "There Is Love", a song Valley released as a solo in 1967. It also included a cover of the Righteous Brothers' "Little Latin Lupe Lu".
In early 1967 Joey Newman left the Pacific Northwest band Liberty tree, and joined Don And The Goodtimes. This was after Jim Valley had left the band for Paul Revere And The Raiders, and an initial replacement moved on. Now, in early 1967, Don And The Goodtimes had a lineup of Ron "Buzz" Overman, L'il Don Gallucci, Bobby Holden, Jeff Hawks and Joey Newman. It was this lineup that would enjoy the band's biggest commercial success.
They had a regional breakout hit in the spring of 1967 with "I Could Be So Good To You".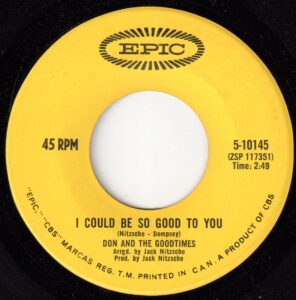 "I Could Be So Good To You" was cowritten by Jack Nitzsche and Greg Dempsey. Bernard Alfred Nitzsche was born in Chicago in 1937. In 1955 he was hired by Sonny Bono after Nitzsche moved to Los Angeles. In 1960 Nitzsche wrote "Bongo Bongo Bongo" for Preston Epps. In 1962 he arranged "He's A Rebel" for the Crystals. In 1963 he co-wrote with Bono "Needles And Pins", a hit for both Jackie DeShannon and the Searchers, and arranged "Zip-A-Dee-Do-Dah" for Bob B. Soxx and the Blues Jeans, "Be My Baby" for the Ronettes, "Da Doo Ron Ron" and "Then He Kissed Me" for the Crystals, and "18 Yellow Roses" for Bobby Darin.
In the winter of 1964-65, Nitzsche played piano on "(I Can't Get No) Satisfaction", and harpsichord and tam-tam on "Play With Fire" for the Rolling Stones. In 1965 Nitzsche arranged "Just Once In My Life" and "Unchained Melody" for the Righteous Brothers. In 1966 Nitzsche arranged "Elusive Butterfly" for Bob Lind, "River Deep-Mountain High" for Ike & Tina Turner. He played piano on Rolling Stones hits "Paint It Black", "Lady Jane", "Under My Thumb" and "Let's Spend The Night Together". In 1967 Nitzsche arranged "She Knows" for Bobby Darin, and played and in '68 the Buffalo Springfield single "On The Way Home".
In 1969 Jack Nitzsche arranged "You Can't Always Get What You Want" for the Rolling Stones, and "The Rainmaker" for Tom Northcott. In 1970 Nitzsche played piano on Neil Young's album, After The Goldrush. This included the singles "Only Love Can Break Your Heart" and "When You Dance I Can Really Love". In 1972 Jack Nitzsche arranged and produced "There's A World" and "A Man Needs A Maid" for Neil Young's Harvest album. Nitzsche also provided piano and slide guitar to other tracks on the album, including "Heart Of Gold" and "Old Man". In late 1973, Jack Nitzsche arranged the number-one hit for Ringo Starr titled "Photograph". In 1983 he co-wrote "Up Where We Belong" with Buffy Sainte-Marie. Nitzsche also arranged the Rolling Stones albums Let It Bleed and Emotional Rescue (including the Top Ten title track hit single). And in 1992 he arranged Neil Young's album Harvest Moon, including the #5 Canadian hit single "Harvest Moon".
As well, Nitzsche worked on soundtracks for over thirty films. These include The Exorcist, One Flew Over the Cuckoos Nest. Nitzsche was nominated for an Academy Award for Best Original Score for One Flew Over the Cuckoos Nest (1975), and again for An Officer And A Gentleman (1982). Jack Nitzsche and Buffy Sainte-Marie were married from 1982 until 2000 when he died at age 63 after suffering a cardiac arrest.
"I Could Be So Good To You" is a song about someone who is trying to start a romantic relationship with a person they have amorous feelings for. The scenario involves the guy watching someone "standing all alone" and then he sees them smile. The sight of their smile is a catalyst for flying into action: "I knew I had to take a chance, and talk to you awhile. So I can't waste any time. I gotta move fast now." The guy is motivated to assert he could be "good" for his crush, in fact: "I could do so many things, oh, baby."
It seems the narrator of the song has noticed the person he has a crush on several times. As he sings in the song: "I only want to tell you that I think you look real nice. My face is so much brighter, when I see you once or twice." The visual stimulation of seeing this object of his affection makes him sure he'd want to "Run into spring with you. Get in the ring with you…" Spring is a time when everything is in bud. A professor at Rutgers University, Helen Fischer, comments "…there's so much novelty in the spring. There is so much more color, new smells, people take their clothes off and you can see more of them. And so there is a lot of new stimuli that trigger the brain and drive up dopamine, and make you more susceptible to love."
Bob Holden recall when "I Could Be So Good To You" was recorded. "On that session we had five guitar players, including Charlie, James Burton, Glen Campbell and Ry Cooder. Larry Knechtel and Don were playing keyboards.
In addition to cowriting "I Could Be So Good To You", Jack Nitzsche also produced and arranged the song for Don And The Goodtimes. In March 1967 KJR and KOL in Seattle began to play "I Could Be So Good To You" with heavy rotation, featuring Ron "Buzz" Overman's lead vocals. The single climbed to number-one on both Seattle charts, spending four weeks at #1 on KJR for four weeks in April into early May '67, and 13 weeks on the KJR Fabulous Fifty. In Vancouver (BC) the song began to chart in mid-April, the week "I Could Be So Good To You" topped the charts at KJR in Seattle.
"I Could Be So Good To You" climbed to #1 in Seattle, Portland (OR), Hoquiam (WA), Salem (OR) and Vancouver (WA), #2 in Vancouver (BC), #5 in Boston and Winston-Salem (NC), #6 in Honolulu, Kalamazoo (MI) and Las Vegas, #8 in Lowell (MA) and Columbus (GA), #9 in Quincy (IL), and #10 in Stevens Point (WI) and Saginaw (MI). In about 30 states the single received solid airplay, while it was largely overlooked in 20 other states across the USA. "I Could Be So Good To You" stalled at #56 on the Billboard Hot 100.
With the release of "I Could Be So Good To You", Don And The Goodtimes released a studio album titled So Good, arranged and produced by Jack Nitzsche. Among the tracks from the album the band recorded a respectable cover of "With A Girl Like You", originally recorded by the Troggs.
In the summer of '67, Don And The Goodtimes had a regional hit with "Happy And Me". It climbed to #7 in Seattle, #15 in Jackson (MI), and #18 in Vancouver (WA) and Yakima (WA). While the B-side, "If You Love Her, Cherish Her, And Such", made #15 in Worcester (MA).
In the fall of 1967, the band had another regional breakout called "Bambi", which made #18 in Quincy (IL), and #25 in Toledo (OH). Their last regional hit was in 1968 with "May My Heart Be Cast Into Stone". In February 1968, it climbed to #10 in Jackson (MI) and #14 in Vancouver (WA). Both "Bambi" and "May My Heart Be Cast In Stone" were written by Sandy Linzer and Denny Randell. Linzer and Randell cowrote "Dawn (Go Away)", "Let's Hang On" and "Working My Way Back To You" for the Four Seasons. And in 1965 they also wrote "A Lover's Concerto" for the Toys. In 1975 Randell wrote "Swearin' To God", a hit for Frankie Valli. And Linzer produced the 1976#1 disco chart hit "Whispering"/"Cherchez La Femme"/"Se Si Bon" for Dr. Buzzard's Original Savannah Band. The songwriting duo were inducted into the Songwriters Hall of Fame in 2012.
Don and the Goodtimes split in 1968. Bob Holden recalls, "…some of the band members were going through a time of experimental drugs, and along with that came the idea of different kinds of experimental music. The outcome was that Don and the Goodtimes evaporated and became a group called Touch. I worked with the band for some time on new material and helped write some of the music, but at one point it just didn't feel right to me."
After the break-up, Ron Overman joined the King Biscuit Entertainers from 1968-69. Joey Newman wrote songs, and three of these were recorded in 1972 by Gayle McCormick on her album Flesh & Blood. In 1969, Newman was in the Texas band Blue Mountain Eagle with the brother of the late Bobby Fuller, Randy Fuller. And in the 1970s, Newman was in the bands Stepson and Touch.
In 1969 Don Gallucci played organ and contributed arrangements for Elyse Weinberg's album Elyse. This included her minor 1969 hit "Oh Deed I Do". He also produced some tracks for the Stooges 1970 album Fun House, featuring Iggy Pop. Gallucci, Hawks and Newman were all bandmates in the psychedelic and progressive rock band Touch, who released an album in 1969. The trio were also in the hard rock band, Stepson, who released one album in 1974.
In 1980 Joey Newman released a gospel-soul album titled Into His Favor, which also included Jeff Hawks as a composer of several songs.
After Don And The Goodtimes split, Bob Holden says "I went back to Portland when The Redcoats asked me to join their band, but that didn't work out either. I started at the machine shop again working toward becoming a journeyman machinist, but when you've got music and recording in your blood you've got to scratch that itch! I started hanging with Rick Keefer around a studio in Vancouver [Washington], called Ripcord and doing some recordings there….I started a production company with some other guys [in Seattle] called Krans Martokian Productions and we collectively bought shares in Sea-West. We'd do all of our production work there and I was engineering." Krans Martokian Productions became Holden Hamilton and Roberts, which Holden left in 1979. Bob Holden has more recently been Associate Director for Multimedia Services at Pacific Lutheran University in Tacoma, Washington.
References:
Jefrey Bruton, "Bob Holden: Goodtimes in the Northwest," tapeop.com, May/June 2011.
Jon Pareles, "Jack Nitzsche, 63, Musician And Oscar-Winning Songwriter," New York Times, August 31, 2000.
Sandra Totten, "Spring is the Season for Love, Scientifically Speaking," Minnesota Public Radio (MPR) News, April 9, 2010.
Denny Randell bio, Denny Randell.com.
Robert Wiener, Jersey Boy: Local Songwriter Reflects on Writing The Four Seasons Hits, New Jersey Jewish News, Whippany, New Jersey, January 4, 2017.
"About Elyse," Elyse Weinberg.com.
"The Amazing Don Gallucci and his Progressive Rock Band," thelouiereport.com, April 1, 2008.
"C-FUNTASTIC FIFTY," CFUN 1410 AM, Vancouver, BC, May 27, 1967.
For more song reviews visit the Countdown.